China Prepares for Africa Summit
The Forum on China-Africa Cooperation Summit is being held this week.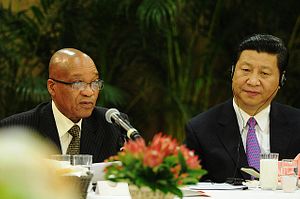 Perceptions of China's role in Africa have been mixed. The nation has been viewed as imperialist and a supporter of dictatorships by some, and as a benefactor and promoter of peace by others. However, as China's economy shifts from one that is strongly resource consuming and manufacturing intensive to one that is more consumer and service-oriented, the nation's relationship with Africa is changing. Mutually beneficial agreements will be discussed further in the Forum on China-Africa Cooperation (FOCAC) Summit, which will take place this week in South Africa.
China has provided Africa with much-needed infrastructure, such as railway, roads, and telecommunications projects, but some have argued that China does so to facilitate the extraction of natural resources. In fact, to some extent Chinese manufactured imports have reduced the competitiveness of South African manufactures, and South African President Zuma stated at the 2012 FOCAC meeting that the unequal trade relationship with China could not be sustained. Nigeria's Central Bank Governor Lamido Sanusi has also commented that China's relationship with Africa is imperialist, removing natural resources from the region.
Still, China has provided much needed financing and training/technical expertise to African countries. Chinese financing plays an important role in funding infrastructure projects, since African banks lack the capital to fund such projects themselves. China has created thousands of training opportunities for Africans and also sent hundreds of thousands of technical professionals to the continent. Some countries, such as Ethiopia, have benefited from technology spillovers from Chinese firms, including private Chinese firms invested in manufacturing and services.
Meanwhile, Africa is growing and demanding an increasing number of consumer goods and food products. The continent's partnership with China can help the region obtain sufficient products to cater to a growing population and economy. After all, China remains Africa's largest trading partner, and this relationship does not appear to be waning. Also, contrary to assertions that China has taken African land holdings to produce crops for export to China, reliable sources have confirmed that reports of land takings have been grossly overstated.
China will discuss its economic relationship with Africa at the upcoming FOCAC. The FOCAC will promote Sino-African partnership, under the theme of "China-Africa Progressing Together: Win-Win Co-operation for Common Development." China is expected to announce a loan package at this meeting, as it has in previous years. This will assist Africa with ongoing construction of infrastructure. President Xi Jinping will also support African integration, which promotes peace and security, and from a practical standpoint will improve China's economic activity in the region.
Projects to be discussed at the FOCAC summit include the "three networks" – a regional high-speed rail network, highway network, and aviation network, among other items. China's investment in Africa appears to be changing for the better, as both China and Africa grow. China has become a more sophisticated investor, and has imposed stricter requirements on its own companies investing in Africa and has shown an increased willingness to provide African countries with jobs and technology. The FOCAC should help take China's relationship with Africa forward.