China Will Invite Syrian Government, Opposition for Peace Talks
China appears ready to play a more active role in the Syrian peace process.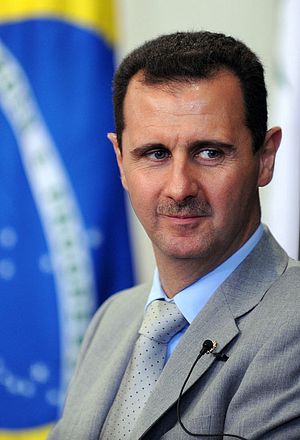 China has offered to host talks between the Syrian government and opposition groups as a step forward in the peace process. Foreign Minister Wang Yi said on Friday that China would invite representatives of President Bashar al-Assad's government, as well as opposition groups that are not linked with extremist or terrorist activities to the talks.
Wang made the announcement in New York, at the foreign ministers' meeting of the International Syria Support Group (ISSG). That same day, the United Nations Security Council approved a resolution based on ISSG negotiations outlining a rough plan for a peace process in Syria. Resolution 2254 calls for talks between the Syrian government and opposition groups to begin in early January, with a nationwide ceasefire to follow shortly thereafter. The resolution sets some ambitious timelines: a move to "credible, inclusive, and non-sectarian governance" within six months and "free and fair elections" to be held within 18 months.
The breakthrough at the Security Council was seen as a big step forward in dealing with the Syria crisis. Four previous UNSC resolutions were vetoed by China and Russia; both objected to the assumption that Assad must agree to step down as a precondition for talks. That expectation is still strongly held by Western governments – French Foreign Minister Laurent Fabius called it "unacceptable" for Assad to stand for elections again – but the touchy subject of Assad's fate is being left up to Syrian negotiators to decide.
In remarks before the UN Security Council, Wang praised the unanimous passage of the resolution. He emphasized the massive harm done by the ongoing fighting in Syria and underlined China's long-held position that a political solution is the only lasting option. He also urged the UN to play a role in helping consolidate the opposition groups—a crucial step to making political talks possible.
While China has been involved in international talks on the Syria issue since the beginning, it has mostly taken a back seat to the United States and Russia. The Chinese government has been clear about what it doesn't want—Western-forced regime change, the spread of terrorism, a humanitarian crisis—but has been largely quiet on how to achieve the holy grail of a lasting negotiated peace. Should China actually host rare peace talks between the Syrian government and opposition, it would be a big step forward in Beijing's direct involvement in ending the messy conflict.
Beijing has hosted Syrian government and opposition figures separately, but this is the first time the Chinese government had explicitly offered to help act as mediator. Wang also said that the UN might be invited to participate in the Chinese-hosted talks as well, to bolster the legitimacy of the discussions.
When asked for details about Wang's invitation at a routine press conference, Foreign Ministry spokesperson Hong Lei said only that China "would invite representatives of the Syrian government and relevant opposition forces to China as part of China's constructive efforts to promote peace talks and the political settlement of the Syrian issue." He added that the ministry "will release relevant information in due course."
Of course, China is far from alone in offering to host peace talks. As The Diplomat reported back in May, Kazakhstan has also expressed a willingness to mediate in Syrian peace talks.