Terrorism as Pretext: Religious Repression in Central Asia
Mostly more of the same in the annual religious freedom report, but a small hopeful note.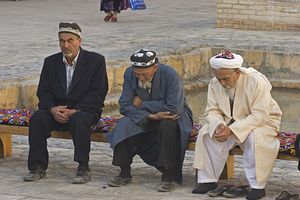 In the 2014 International Religious Freedom Report, released today, the U.S. State Department makes note of three key developments. The first two relate to sources of religious repression: non-state actors and governments, while the third highlights a worrying trend: states increasing restrictions on religious freedoms "under the pretext of combating terrorism and violent extremism." It comes as no surprise that in outlining this final development, the report specifically calls out Uzbekistan and Tajikistan.
Speaking at the report launch, U.S. Secretary of State John Kerry remarked that states which use claims of combating terrorism as pretext for cracking down on religious liberty are not fooling anyone:
First, as much as we oppose the actions of terrorists, we do not agree with governments that use those crimes as a pretext for prohibiting religious activities that are in fact nonviolent and legitimate. Those who misuse the terms "terrorist" and "extremist" are not fooling anybody, and trying to dictate an artificial conformity of religious expression is not a prescription for harmony. It is a prescription for frustration, anger, and rebellion. And we have learned time and again that if citizens are denied the rights to practice and express their beliefs peacefully, they are far more likely to explore other and more often than not dangerous alternatives.
With regard to Uzbekistan, the report's authors comment that the government continues to broadly ban Islamic groups. Tashkent labels a number of Islamic groups as extremist "without any reference to violent activities." According to the report, the government directs neighborhood committees and imams to identify individuals in their community who "could potentially become involved in extremist activity or groups, including those who prayed daily or otherwise demonstrated active devotion." Human rights organizations estimate that between 5,000 and 15,000 people are imprisoned in the country, charged with being extremists or members in illegal religious groups.
Not all of Uzbekistan's religious repression targets Muslims, though when it does the pretext is generally combating terrorism. Unregistered Jehovah's Witnesses communities have been raided by the authorities and state-sponsored media labeled the group a "totalitarian sect."
The report outlines Tajikistan's many restrictions on religious practices. Not only must religious groups be registered properly, but adherents are restricted in how they can practice their religion and where. Muslims can only pray in mosques, cemeteries, homes, and shrines, but women who practice the state's dominant version of Islam, Hanafi Sunnis, are still barred from mosques as are children under 18.
Keep in mind, the report only covers 2014. There is no mention of the Tajik government's 2015 crackdowns on religion. Forced beard shavings, state-supported rumors of prostitutes hiding behind hijabs, and the downfall of the Islamic Renaissance Party of Tajikistan will have to wait for next year's report. Just looking at 2014, however, the report's authors were still able to identify the Tajik government's practice of capitalizing on the pretext of terrorism to restrict religious practices, as well as political activities.
For example, in August 2014, Tajik authorities arrested five individuals on suspicion that they were members of a banned group. "The 'suspicious behavior' included praying differently at the mosque and ignoring traditional Hanafi Islam rules and procedures," the report notes.
The good news, if there is any, is that it has been proven on a number of occasions that concerted international pressure can yield the release of individuals detained in Central Asian countries. In a region where torture and other abuses are common this is not a trivial victory in the individual cases. The report includes in its short list of "positive developments in 2014" Turkmenistan's release of eight of nine Jehovah's Witnesses jailed because of their religious convictions, namely resistance to compulsory military service, "after their inclusion in a list of religious prisoners presented by the U.S. Embassy."
But this is still a small, and somewhat hollow, victory. Central Asia has an ample supply of citizens wrongly imprisoned that human rights organizations and Western governments can include on lists. And while each release is a win, there doesn't seem to be an indication of tangible improvement in how Central Asian states manage religion in public life.