US, India Boost Security Ties in Defense Minister Visit
Manohar Parrikar's visit to the U.S. was full of "firsts."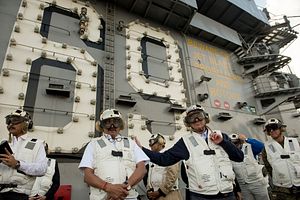 India's minister of defense, Manohar Parrikar, paid an official visit to the United States this week, beginning with a visit to U.S. Pacific Command (PACOM) in Hawaii and ending with an inspection of a U.S. nuclear-power aircraft carrier in Virginia.
Parrikar started his trip off in Hawaii, where he became the first Indian defense minister to ever visit PACOM headquarters in what PACOM called a "milestone event." Also while in Hawaii, Parrikar participated in the Pearl Harbor Commemoration Ceremony on December 7.
Parrikar met with PACOM Commander Admiral Harry B. Harris Jr. According to a readout from PACOM, their conversation focused heavily on maritime security. Parrikar and Harris "emphasized the importance of expanded maritime security cooperation within the context of broader military-to-military ties, especially in the Indo-Asia-Pacific" and also "discussed the continuance of the maritime security cooperation, [and] the potential for joint U.S.-India maritime patrols."
Later, at a press conference at the Pentagon, Parrikar said that U.S.-India "cooperation in the area of maritime security is also becoming stronger, especially in the Indian Ocean region."
Back at PACOM, Parrikar and Harris also touched on the various military exercises both sides participate in, including "Exercises Malabar, Yudh Abhyas, Red Flag, Vajra Prahar, and RIMPAC." Red Flag is particularly noteworthy — India has only participated once in the air-to-air combat exercise, in 2008. India will join the exercises again next year, according to the Pentagon.
PACOM noted that "the United States is still India's partner of choice for exercises and military-to-military engagements." Parrikar later announced that India "is conducting more military exercises with U.S. than any other country."
After visiting Hawaii, Parrikar traveled to Washington, D.C., where he met with U.S. Secretary of Defense Ashton Carter for the third time, after hosting Carter in New Delhi in June 2015 and meeting again on the sidelines of the ASEAN Defense Minister's Meeting Plus in Kuala Lumpur. According to Parrikar, his conversations with Carter involved "a range of issues covering the entire spectrum of our defense partnership."
According to a joint statement issued after the meeting, Parrikar and Carter devoted special attention to the Defense Technology and Trade Initiative (DTTI). Carter has described that project as an attempt "to create cooperative technology and industrial relationships which are not just the buyer-seller kind." Parrikar and Carter "committed to identifying additional projects for possible co-development and co-production of high technology items that meet the transformational intent of DTTI," according to the statement.
They specifically noted positive progress at the Joint Working Group on Aircraft Carrier Technology Cooperation and Jet Engine Technology Joint Working Group. The two sides are in discussion to have the U.S. allow India access to technology to be used in construction of India's second indigenous aircraft carrier, including nuclear propulsion and electromagnetic aircraft launch systems (EMALS). India and the United States are also looking into tech transfers involving jet engine technology, although the Pentagon is reluctant to provide the latest tech on that front. Carter assured Parrikar that Washington had "updated its policy on gas turbine engine technology transfer to India," and expressed his confidence that the policy change would led to increased room for cooperation.
Parrikar was even more confident, predicting that within the next six to seven months "we will see so many of [sic] defense initiative technology transfers; [and] U.S. companies setting up production facilities in India."
The potential for shared defense technology received a symbolic boost when Parrikar, led by Carter, toured the USS Dwight D. Eisenhower, one of the United States' nuclear-powered aircraft carriers. In doing so, Parrikar became the first Indian defense minister to tour any U.S. aircraft carrier. He was given a demonstration of flight operations, and expressed his satisfaction with the opportunity: "We could experience the technology and the speed at which things can be done," he said, according to The Economic Times. He also inspected a jet engine while on board the Eisenhower, providing Parrikar a hands-on look at all the big-ticket technologies the U.S. and India are looking to cooperate on.
In addition to technology cooperation and maritime security, the two sides discussed concerns over terrorism, from Islamic State and al-Qaeda to regional groups like Lashkar-e-Tayibba and the Haqqani Network. "The issue of terrorism was a key topic discussion in all engagements," Parrikar said in remarks to reporters, although there were no details on how the two sides would cooperate on counterterrorism.
The visit was an opportunity to showcase the strength of the U.S.-India defense relationship. Carter spoke of "historic steps" in the relationship and promised that "the U.S.-India defense partnership will become an anchor of global security."
"This is a relationship that will be critical in strengthening the … Indo-Asia-Pacific … security architecture, so that everyone there can continue to rise and prosper," Carter said.
Parrikar, for his part, said that the relationship-building was more important that the actual talks. "[W]hen you gel well, you do not remember what you discussed," he told The Economic Times. "The most important is trust building, which I think is happening for the first time" under Prime Minister Narendra Modi and President Barack Obama.