Is China's President About to Make His First Trip to the Middle East?
A planned trip in 2015 was scuttled due to regional tensions. Will Xi's 2016 Middle East tour share the same fate?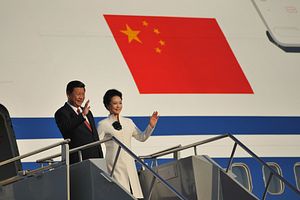 For all his globe-trotting since assuming the Chinese presidency in March 2013, there's one part of the world Xi Jinping has yet to visit: the Middle East. That delay has been taken as an indication that China still isn't – and perhaps doesn't want to be – a major player in the region. But now that oversight may be about to change. Though there's no confirmation from the Chinese Foreign Ministry, both Egypt and Iran are reporting that Xi will be visiting in late January.
Xi was originally planning to head to the Middle East in April 2015, to visit Egypt and Saudi Arabia as part of a larger tour that would also include stops in Indonesia and Pakistan. But the Middle East leg of the trip was scrapped, apparently because China wanted to avoid being seen as supporting Saudi-led airstrikes in Yemen, which target Iranian-backed fighters.
If the trip takes place as reported, it means Xi has chosen the Middle East his first foreign destination in 2016 – a status generally used to indicate China's focus on a particular region or country. By comparison, Xi's first trips abroad in 2013 and 2014 were both to Russia, and his first overseas visit in 2015 was to Pakistan (though originally the Middle East would have been included on that larger trip abroad).
According to Egyptian Foreign Ministry spokesperson Ahmed Abu Zaid, Chinese Vice Foreign Minister Zhang Ming met with Egyptian Foreign Minister Sameh Shoukry to prepare for Xi's upcoming visit, which is scheduled for January 20-22. It will be the first visit to Egypt by a Chinese foreign leader in 12 years, Zaid said. Previous Chinese Presidents Jiang Zemin and Hu Jintao both visited Egypt, Jiang in 2000 and Hu in 2004.
During Egyptian President Abdel Fattah el-Sisi's state visit to China in December 2014, the two sides upgraded their relationship to a "comprehensive strategic partnership." Agreements from that visit – including an electric rail project and construction of a new power plant in Suze — were finalized when Sisi returned to China to attend the military parade commemorating the 70th anniversary of the end of World War II. Egypt has also indicated it will seek Chinese investment and participation in its New Suez Canal project, providing a potential hint of what to expect during Xi's visit.
Egypt was also on the itinerary for Xi's scrapped April 2015 tour of the Middle East; Iran was not. But a visit to Iran has been on the cards for a year now, according to Iranian media. In February 2015, China's ambassador to Iran reportedly said that Xi would visit Iran in the near future. In September, after Xi met with Iranian President Hassan Rouhani on the sidelines of the UN General Assembly, Iran's Tasnim News Agency said Xi had agreed to visit Iran in early 2016. Tasnim reported this week that Xi will visit Iran on January 23, along with "a high-ranking political and economic delegation." Xi would become the first Chinese leader to visit Iran since President Jiang Zemin paid a state visit in 2002.
The head of the Iran-China Joint Chamber of Commerce, Majid-Reza Hariri, told Tasnim that the visit would take place in the next month, and that the two sides were expected to sign Memorandums of Understanding on the joint development of railroads, ports, and free trade zones. Hariri also said China and Iran were looking into a currency swap mechanism to facilitate trade between the two sides.
For those trying to read the tea leaves of China's Middle East policy, it's notable that the planned 2015 trip included only Egypt and Saudi Arabia, while the January 2016 trip adds in Iran. That's particularly telling as Saudi-Iran tensions are boiling over right now, following the controversial execution of a Shia cleric in Saudi Arabia and the storming of the Saudi embassy in Tehran by angry protesters. China has so far tried its best to stay neutral, not wanting to antagonize either side.
So don't assume that Xi is leaving Saudi Arabia out of his first Middle East tour. China's Foreign Ministry has not yet confirmed Xi's trip; when asked for comment, a press officer at the Chinese embassy in the United States said the embassy had no information to share. That means we don't have an official itinerary to analyze. So far Iran and Egypt have reported on Xi's upcoming visits to those countries, but there could be additional stops that have yet to be announced — and sources in Beijing say Saudi Arabia is actually on the schedule as well. If Vice Foreign Minister Zhang's tour of the Middle East is meant to lay the groundwork for Xi's upcoming visits, it's notable that he visited both Iran and Saudi Arabia, according to China's Foreign Ministry, in addition to Egypt.
However, given the hostile state of Saudi-Iran relations right now, it's possible that this trip will also end up being cancelled or delayed (that's what the overseas Chinese-language news outlet Duowei suggests will happen). And the longer Xi goes without setting foot in the Middle East, the more noticeable the exception becomes.