China's Egypt Opportunity
With Egyptian President Sisi in Beijing, China is looking to expand its ties with Cairo.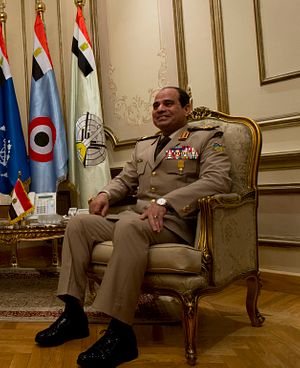 In what Chinese President Xi Jinping called "an important milestone," China and Egypt have upgraded their relationship to a "comprehensive strategic partnership." The agreement came as Egyptian President Abdel Fattah el-Sisi is in Beijing for an official visit. The two leaders further agreed to increase China-Egypt "political, economic, military, cultural and technological cooperation" as well as coordination at the regional and international level.
The visit of President Sisi to China caps a year in which China has taken small but meaningful steps to increase its role in the Middle East. At this year's China-Arab Cooperation Forum, Beijing promised to seek more engagement in this region, an increasingly important hot spot for energy-hungry China. Xi Jinping declared 2014 and 2015 "years of China-Arab friendship," with increased exchanges and visits.  Sure enough, China has been busy fostering deeper ties with Saudi Arabia, Jordan, and Lebanon.
Egypt is a particularly interesting case, as the country long enjoyed a close partnership with the United States. However, U.S.-Egypt relations have faltered a bit in the wake of political turmoil in Egypt, beginning with the ouster of long-time dictator Hosni Mubarak in 2011. The new Egyptian president, Mohammed Morsi, made a point of reaching out to China to reduce his country's reliance on the U.S.; Morsi's first official trip abroad was to Beijing.
However, Morsi himself was soon toppled by the Egyptian military – sparking a dilemma within the U.S. between practicality and principles. In response to the military coup and crackdown on dissenters, Washington temporarily halted military aid to Egypt. Some aid has since resumed, beginning with a shipment of Apache helicopters in 2014, but human rights concerns continue to dog U.S.-Egypt relations. "Failing to make significant cuts to the [U.S. military aid] program later this year, when the Obama administration will confront tough choices regarding Egypt's future, would be indefensible," the New York Times editorial board argued in October, citing "Egypt's crushing authoritarianism." Those tensions between military cooperation and human rights concerns were on full display in President Barack Obama's December 18 phone conversation with President Sisi.
China, meanwhile, has no qualms about dealing with the new Egyptian government, and in fact pointedly emphasized that fact in talks with Sisi. Xi said that China "firmly supports the Egyptians' pursuit for a development path suitable for their own national condition." The joint statement signed by the two leaders had China reiterate "its position of respecting the Egyptian people's rights to choose their political system and development policy on their own as well as opposing external forces' attempt to interfere in Egypt's internal affairs." In turn, Sisi thanked Xi "for understanding the Egyptian people's request for change in recent years," presumably a reference to the political turmoil in Egypt.
Despite current U.S.-Egypt tensions, there were few signs that China was seeking to supplant the U.S. as Egypt's major military partner. Instead, Beijing's focus, as it often is, was on the economic. Egypt and China agreed to work together on the Silk Road Economic Belt and Maritime Silk Road project. Sisi also promised Egypt would actively court Chinese investment for its New Suez Canal project, a $4 billion project that will parallel the existing canal in linking the Mediterranean and Red Seas. The new canal is a natural fit for China's Maritime Silk Road vision, with the planned route already moving through the Suez Canal to reach Europe.