Myanmar: Fahrenheit 436
One section of the country's constitution promises some rocky times ahead.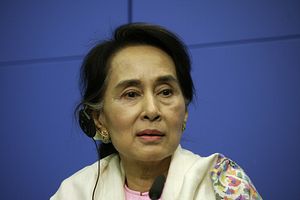 One has called Burma's deeply flawed 2008 Constitution "silly" while the other has vowed to safeguard it. When Aung San Suu Kyi met recently with Burma's military commander-in-chief, Senior General Min Aung Hlaing, all the talk in the media was about whether there would be a smooth transfer of power following the November 8 election that saw Suu Kyi's National League for Democracy (NLD) party win 77 percent of all elected seats and command an outright majority in the soon-to-be convened parliament.
But hanging over the event was the question of who really wields ultimate power in Burma. While it is Suu Kyi who holds a broad electoral mandate, it is the general in charge of the powerful Tatmadaw (military) who can determine the limits of the democratic transition.
The military can do this by force, which it did by annulling a similar overwhelming NLD victory in 1990, or it can use the final chapter of Burma's military-drafted constitution, a deeply undemocratic document that ensures military control over constitutional processes. Section 436(a) states that, "If it is necessary to amend the provisions" of key chapters, "it shall be amended with the prior approval of more than seventy-five percent of all the representatives of the Pyidaungsu Hluttaw [joint national parliament], after which in a nationwide referendum only with the votes of more than half of those who are eligible to vote." This is the constitution's poison pill, as the military appoints 25 percent of the seats in parliament, thus holding a lock on any change.
Section 436 covers specific provisions in eight of the 13 constitutional chapters, including how to select the president, especially 59(f) which bars Suu Kyi from the presidency, the number of military representatives in the national and state and regional assemblies, the composition of the powerful National Defense and Security Council dominated by the military, the structure of courts and the constitutional tribunal, and most provisions on enacting a state of emergency. Under the constitution, the Tatmadaw also controls the key ministries of Defence, Home Affairs, and Border Affairs – meaning that when the first cabinet meetings are held, the three key ministers will be people appointed not by the NLD president or Suu Kyi, but by the military.
During the predictable bargaining that will ensue between the NLD and Tatmadaw, Suu Kyi may give priority to amending 59(f) to enable her to accede to the presidency, but this would require some military-appointed members of parliament to defy the army, while also needing support from elected pro-military parliamentarians. Even if this happens, there is the risk of a backlash, potentially against the new government itself, if the military believes it will lose its control over parliament without its assent.
Thus, while there is much speculation about what kind of leader Suu Kyi will be, an equally interesting question is how the commander in chief will use his large swathe of remaining power. In an interview in November with the Washington Post, Min Aung Hlaing said, "We are not rigid on the constitution…But we need a mature and stable political situation in our country. We need to gradually change. Right now we are not ready. We have only experienced democracy for a short time. To get good results for our country, you need to be patient."
In a July interview with the BBC he suggested relinquishing more power in 5-10 years, saying a nationwide ceasefire and peace deal with ethnic groups was a prerequisite – something the military has not been able to accomplish since it took power in 1962. A partial ceasefire with eight of 17 non-state armed groups was signed in October, despite fighting having escalated with several other non-state armed groups in Burma's north since 2011.
As encouraging as the post-election meetings between Suu Kyi and Min Aung Hlaing appear, it should be remembered that a rapprochement between the democracy leader and her military persecutors has been tried before. Following Suu Kyi's release from house arrest in 2010 and becoming an MP in 2012, she leveraged her immense domestic popularity and international acclaim to engage President Thein Sein, military MPs, and senior Tatmadaw officials, even going so far as to express her "fondness" for the military and making clear she had no interest in prosecuting any military officer for past crimes. She became especially close to the parliamentary speaker, the former general Thura Shwe Mann, who became increasingly estranged from the military. He was purged from his leadership of the military-backed ruling Union Solidarity and Development Party after Suu Kyi had floated the possibility of him becoming president.
Constitutional locks are not the military's only source of power. Key government institutions and the public service are infused with former military personnel, and the Tatmadaw has immense economic influence through decades of corruption and control over its powerful holding companies, investments in mining, jade exports, access to billions of dollars in natural gas revenues, and total control over setting its own budget. The Tatmadaw has embarked on an expensive modernization program to bolster its technological capacity, even while reducing its bloated size. It's hard to imagine new civilian officials having any sway over the military's conduct of its longstanding wars with ethnic armed groups, which continued while elections were taking place. Serious abuses by the military in operations against Shan insurgents in the north have included war crimes against civilians, but holding soldiers accountable for their actions will be an uphill battle. Fighting with other ethnic forces in the north is at its most intense in many years.
Section 436 exists to preserve all these interests. It is the key piece in the military's attempt at constitutional checkmate. Even after elections, section 436 maintains the commander in chief as the ultimate arbiter of any structural changes. Yet this is an inherently unstable arrangement. The denouement is inevitable. The longer it takes to resolve, the higher the temperature, and the greater the risk that political instability will ensue.
David Scott Mathieson is Senior Researcher in the Asia Division of Human Rights Watch