Russia, Japan and North Korea's Nuclear Test
In its harsh response to the test, Moscow has its eye on a strategic victory.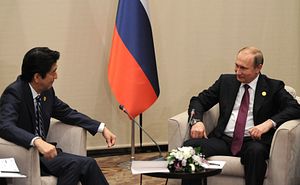 On January 6, 2016, North Korea's state media announced that the DPRK had successfully tested a hydrogen bomb. North Korea's nuclear test resulted in a predictable array of international condemnations, but Russia's harsh response to the DPRK's belligerent action was especially intriguing.
Russia's permanent representative to the United Nations, Vladimir Voronkov described North Korea's nuclear test as a clear violation of international law and a national security threat. Admiral Vladimir Komoyedov, the head of the Russian State Duma's defense committee echoed Voronkov's statement, calling North Korea's nuclear test "frightening" and urging the international community to contain the DPRK's growing nuclear potential. Following from this rhetoric, Russian diplomats have engaged with their counterparts in the United States, Japan and South Korea. Russia has also not ruled out supporting tougher international sanctions against Kim Jong-un's regime.
Russia's hawkish response to North Korean belligerence appears to have at least temporarily halted the trajectory towards more favorable Russia-DPRK relations, cemented by joint military drills, Russian President Vladimir Putin's first-ever visit to the DPRK, and the declaration of a year of friendship between the two countries. Russia's transformed North Korea policy in light of the hydrogen bomb crisis can be explained by two main factors. First, Russia wants to thaw relations with Japan to dilute its increased economic dependence on China. Second, Russia believes a mediation role in the Korean peninsula would greatly bolster its international status.
A Pivot to Japan
Even though Western analysts have frequently described stronger ties between Russia and North Korea as a renewal of the Soviet-era alliance, current cooperation has been much more limited and tactical in nature than the Cold War partnership. Vladimir Putin's decision to reach out diplomatically to North Korea was a direct consequence of Western sanctions. To combat international isolation, Russia pivoted towards the Asia-Pacific and forged alliances with anti-Western authoritarian regimes across the developing world.
Although North Korean official rhetoric has hailed the DPRK's pivot towards Russia as a diplomatic triumph, the partnership has weak economic foundations. Andrei Lankov, one of the world's leading North Korea experts, believes that Russia's pledge to expand trade with the DPRK to $1 billion by 2020 is primarily a symbolic gesture, as North Korea has little to offer Russia economically and Russia lacks the financial resources to rival Chinese investment in the DPRK.
As North Korea is little more than an expendable foothold for Russia in the Asia-Pacific region, its recent belligerence has caused Putin to look elsewhere. Russia is keen to avoid becoming economically dependent on China and is inherently fearful of Chinese economic hegemony in the Russian Far East, and Putin has attempted to use a common fear of North Korean aggression to thaw relations with Japan. Russia-Japan relations have been strained in recent years due to Japan's disapproval of Russian military activities in Ukraine, its imposition of sanctions against Russia, and the ongoing Kuril Islands dispute. These tensions have resulted in a 30 percent decline in Russia-Japan trade in 2015, a worrying statistic for Kremlin policymakers seeking additional markets for Russian oil and gas.
Despite these ongoing sources of disagreement, Putin's strategy of opposing North Korean belligerence to improve ties with Japan appears to be working. The vice president of Japan's Liberal Democratic Party Masashiko Komura visited Moscow shortly after North Korea's hydrogen bomb test. After consulting with Russian officials, Komura called for deeper Russia-Japan economic cooperation and collaboration on the development of a stricter UN Security Council resolution to deter further North Korean nuclear tests. Japanese Chief Cabinet Secretary Yoshihide Suga also hinted that Shinzo Abe would visit Russia in the near future. This is a marked reversal in policy – high-level diplomatic meetings between Japanese and Russian officials were shelved after Dmitry Medvedev's controversial August 2015 visit to the Kuril Islands.
In response to these positive developments, Russian Foreign Minister Sergei Lavrov emphasized in his January 12 statement, that both Russia and Japan desire stability on the Korean peninsula as peace allows for a "fruitful trade, economic and investment relationship." Despite the conciliatory rhetoric, Japan is unlikely to break away from the Western consensus by lifting sanctions against Russia in the near future. But improved relations deriving from cooperation on Northeast Asian security could boost the prospects of a historic Japan-Russia treaty officially ending World War II and resolving the Kuril Islands dispute.
Komura officially displayed his support for peace talks on January 11. A successful diplomatic resolution to this long-standing conflict would be a major symbolic victory for Putin's pivot to Asia strategy and potentially result in expanded Japanese investment in energy-rich Siberia.
Russia as Potential Mediator
Much like during previous security crises, China has been expected to lead mediation efforts after the latest escalation of hostilities on the Korean peninsula. South Korean president Park Geun-Hye has overseen significant improvements in the ROK's bilateral relationship with China. Her calls for Chinese punitive measures against the North Korean regime will be a vital litmus test for the success of her diplomatic overtures. However, China's vested interest in maintaining stability in North Korea to prevent a refugee crisis on its borders and to restrict the regional influence of the United States and Japan limits Beijing's scope for action against the DPRK.
Even should China disregard these strategic concerns and threaten North Korea with drastic punitive measures, North Korea's long-term compliance with a Chinese-mediated nuclear deal is not guaranteed. Kim Jong-un is keen to show domestic audiences that the DPRK is independent from China, despite its economic reliance on Beijing. The moral hazard created by past Chinese support for North Korea after nuclear tests could cause Kim Jong-un to question the credibility of Chinese threats.
In this context, Russia, North Korea's second most important strategic partner, could have an opportunity to play a more prominent mediation role. While China's improved relationship with South Korea was triggered in part by increased tensions with North Korea, Russia has arguably been more effective in balancing relations between North and South Korea. Even though Russia expanded military cooperation with North Korea after the annexation of Crimea, South Korea has refused to participate in Western sanctions against Russia. The ROK's rhetorical statements on Ukrainian territorial integrity more closely resemble Chinese than European responses to Russian aggression in Eastern Ukraine. South Korea has also upheld a visa-free travel agreement signed in November 2013 and cooperates extensively with Russia in the heavy industry and aeronautics sectors.
Russia's state-backed news agency TASS reported after the announcement of bilateral talks between Lavrov and South Korean Foreign Minister Yun Byung-Se, that South Korean experts were confident that Russia would spearhead the next wave of sanctions against North Korea. But Russia's biggest contribution as a potential mediator on the Korean peninsula lies not in coercive diplomacy but in its ability to economically bridge North and South Korea. After forgiving 90 percent of North Korea's debt in 2012, Russia announced extensive infrastructure investments, including the construction of a major natural gas pipeline from Sakhalin to South Korea. South Korean businesses responded to this proposal by participating in the Rajin-Khasan railway project that links a vital North Korean port city to Russia's Trans-Siberian railway.
As Russia has much less of a vested interest in maintaining ties with North Korea than China does, North Korean elites would take a Russian threat to abandon these projects much more seriously than a Chinese threat to cut off assistance. Losing Russia as an ally could also threaten the DPRK's diplomatic outreach to India and authoritarian regimes in Sub-Saharan Africa that have close relations with Moscow. By invoking the threat of complete international isolation for North Korea, Putin could compel Kim Jong-un to de-escalate hostilities on the Korean peninsula.
As the Russia-North Korea alliance was never as solid as the Communist-era partnership, Russia's hawkish stance towards North Korea after Kim Jong-un's latest provocations is unsurprising. Russia's break from North Korea should be viewed as a tactical, short-term decision aimed at improving relations with Japan and bolstering its international reputation as a diplomatic arbiter. Should Russia succeed in achieving these objectives and become an indispensable player in one of Asia's most intractable conflicts, Putin will greatly strengthen his case for Russia being an equal partner to China and the West.
Samuel Ramani is an MPhil student at St. Antony's College, University of Oxford in Russian and East European Studies. He is also a journalist who is a regular contributor to the Huffington Post Politics andWorld Post verticals, and recently to the Kyiv Post.