Sino-Norwegian Relations, 5 Years After Liu Xiaobo's Nobel Peace Prize
A new book reveals that the story of the strange dispute between Oslo and Beijing is actually not that new.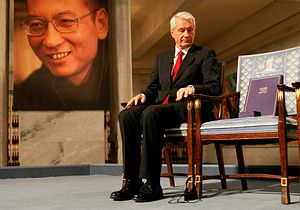 It has been just over five years since the Norwegian Nobel Committee awarded the Peace Prize to the Chinese dissident Liu Xiaobo. It is also the sixth anniversary of Liu's incarceration on charges for "inciting subversion of state power." Norway remains in China's diplomatic doghouse as a result of Liu's peace prize.
Beijing has subjected Oslo to a range of mostly symbolic sanctions. These have included the cancellation of all high-level bilateral meetings, including a nascent free-trade agreement, and informal restrictions on scientific and artistic exchanges. Furthermore, China has imposed selected economic sanctions on Norway, notably on its famous salmon exports.
Despite the interesting case of Norway and China's freeze in relations, there has been little in-depth research on Sino-Norwegian relations after Liu's Nobel Prize. However, two months ago, two Norwegian journalists, Kjell Arild Nilsen and Helge Øgrim, published a book with the telling title China vs. Norway: The Unknown Story from Mao's No to the Current Crisis. Largely based on declassified diplomatic cables between the Norwegian foreign ministry and the embassy in Beijing, the authors give a detailed yet sweeping overview of Sino-Norwegian relations from the foundation of the People's Republic to today. A key point the authors convey is that Sino-Norwegian relations have often been strained, usually as a result of a perceived Norwegian slight to China. For example, in 1950, China imposed remarkably similar sanctions on Norway as a result of a caricature of Mao in one of Norway's leading daily newspapers. This lead to Norway not being able to establish formal diplomatic relations with Beijing until 1955, five years after its Scandinavian neighbors Sweden and Denmark. The current dispute between the two countries is thus not a new phenomenon.
However, perhaps not surprisingly for a country of five million that prides itself on its role as an international peacemaker, the spat with China is a highly discussed and controversial topic in Norwegian society and media. Some Norwegian politicians, academics and certain parts of the private industry have advocated that Norway should apologize to China, or at least try harder to make amends for the perceived slight. Others, including most members of parliament, journalists, and human rights groups, have advocated a principled stance.
As I've written previously, two successive Norwegian governments have struggled to formulate a coherent and appropriate policy for how to deal with the Nobel issue. On the one hand, Norway has attempted to placate Beijing by admitting it to the Arctic Council in 2013, and refusing to officially meet the Dalai Lama when he was on a private visit to Oslo earlier this year. There are also strong indications that the previous Norwegian government (lead by Jens Stoltenberg, the current NATO secretary-general) attempted to secretly negotiate a thaw with Beijing. However, Beijing's demands were apparently too stringent, and supposedly included a clause in which Norway would guarantee that a Chinese dissident would never again be awarded the prize. As the Nobel Committee is a completely independent entity, this would be impossible for any Norwegian government to promise.
On the other hand, the current Norwegian government has gotten tougher with Beijing over the last year. It has expelled two guest researchers (one of whom is a Chinese citizen) from the University of Southern Norway after the Norwegian Police Security Service (PST) claimed they were conducting illegal research into dual-purpose technology. The two were apparently affiliated with an unnamed Chinese university that has close ties to the People's Liberation Army.
This came on the heels of PST's annual national threat assessment, in which it for the first time mentioned China as an actor that might have an interest in conducting espionage in Norway. China responded with predictable outrage, accusing Norway of retaining a "Cold War mentality." However, PST's claim has been partially vindicated by a recent report by the cyber security company FireEye, which confirmed that China has been conducting extensive cyber espionage against Norwegian government and commercial entities.
According to Øgrim and Nilsen, this espionage extends to the Nobel Prize itself. An interesting note in their book is that several officials in the Norwegian Ministry of Foreign Affairs and the Nobel Committee have stated that in the weeks leading up to the announcement of Liu's prize, Chinese officials were particularly active in trying to persuade the Nobel Committee not to award the prize to Liu. Former Foreign Minister Jonas Gahr Støre has suggested that the reason behind the Chinese diplomats' unusual pressure was due to the fact that China had hacked the Nobel Committee's internal e-mails and notes.
Another interesting point of disagreement between Oslo and Beijing has taken place in the Arctic. As the Diplomat has reported extensively, China is in the process of establishing itself as an actor in the region, not least due to its massive economic potential (see here, here and here). It currently operates a research facility in Norway's Arctic Svalbard Archipelago, the Yellow River Station. As a part of its research in the High North, China is a member of the European Incoherent Scatter Scientific Association (EISCAT), a multinational space research organization. EISCAT has two extremely powerful radars on Svalbard, which Chinese scientists operate and maintain.
For almost ten years, China has petitioned the Norwegian government for permission to construct a third radar. In July 2010, three months before Liu's prize, Oslo gave permission to construct the facility. However, following China's sanctions, Norway cancelled the agreement. The Norwegian Ministry of Education and Science has stated that "The purpose of the facility is to conduct space-related research. However, the technology can be used for other purposes as well. After a thorough process, the Norwegian government has decided that we do not want such a facility on Svalbard." This strongly implies that Norway is worried about Chinese intelligence activities in the Arctic.
According to Øgrim and Nilsen, there is relatively little Norway can do to improve its relationship with China, short of an unconditional apology. However, this would probably damage Norway's reputation as a champion for human rights and potentially harm its international standing, perhaps for a long time. In the past, Sino-Norwegian relations have gradually improved as a result of events in China, especially in times of changes in the CCP's leadership. Thus, the authors advise the Norwegian government to stand up for its principles and weather the storm. As a country used to poor weather and bitter winters, that advice may prove tenable.