Sri Lanka's Maithripala Sirisena Is No Stranger to Politics
A recently published article on USAID's blog is cause for concern.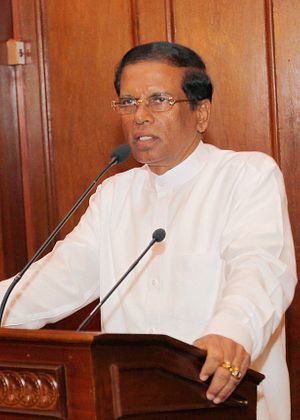 A recent article by two people working with the United States Agency for International Development (USAID) in Sri Lanka is cause for concern. The piece, "Could Sri Lanka's 2015 Elections Signal a New Era of Democracy?", was published on USAID's blog.
Let's look at the beginning of the piece:
Sri Lanka held two elections this year that were markedly different from those in the past. Why? Nobody could predict the outcome. It was a true victory for democracy.

In the election for president in January, Sri Lankan citizens succeeded in making their voices heard, voting for an unconventional choice—a candidate who did not belong to any established political party. In August, parliamentary elections led to a coalition government instead of a majority party holding power.

The news media framed the outcomes as a signal that citizens were voting against a history of nepotism, corruption and abuse of power. Turnout was high—at about 82 percent and 78 percent, respectively. International and domestic election monitors praised the elections as some of the most transparent and credible in the Asian region.
It's helpful to note that Sri Lankans "were voting against a history of nepotism, corruption and abuse of power." Additionally, for both presidential and parliamentary elections, on voting day itself the election was mostly clean, and turnout was high in both elections.
However, there are several problems with the abovementioned paragraphs (and the rest of the article); let's briefly examine a few of them. For starters, the presidential contest was neither free nor fair. It's a well-known fact that the Mahinda Rajapaksa regime abused state resources throughout the campaign.
In addition, suggesting that Maithripala Sirisena is "an unconventional choice" is a bit simplistic. The assertion that he "did not belong to any established political party" is also very dubious. Yes, the announcement of Sirisena's candidacy came as a significant surprise. However, Sri Lanka's current president is a longtime member of the Sri Lanka Freedom Party (SLFP), one of Sri Lanka's two big Sinhala-Buddhist parties. He was even a member of Rajapaksa's cabinet. Essentially, Sirisena is no stranger to politics.
Even if one were to argue that Sirisena essentially left the SLFP to contest the presidency and was, for a brief period, a man without a party, it's irresponsible to have described January's election in such a deceptive way. Sirisena is not only the island nation's current president, he still heads both the SLFP and the United People's Freedom Alliance (UPFA), the political alliance which is led by the SLFP.
Some readers may recall that Sirisena ran as the opposition's "common candidate" and was backed by a diverse coalition. Perhaps that's why it's been suggested that he didn't belong to an established political party. Even if one were to accept this line of thinking, Sirisena's longstanding ties to the SLFP are difficult to ignore.
The article also describes some of USAID's recent work on the island. Take this paragraph:
During the parliamentary elections, we noticed how USAID-trained election monitors worked with polling officials and the police to immediately stop a political candidate from campaigning at a polling station on Election Day—a violation of electoral law. They took him away from the crowd of voters and brought the situation under control so well and amicably that no one seemed to notice.
Democracy promotion is an important component of U.S. foreign policy, but for far too long the United States has had an elections fetish. By now we were supposed to have learned that elections are just one part of genuine democracy and thoughtful democracy promotion efforts.
Most of the coalition government's wide-ranging reform agenda still hasn't been implemented and yet senior officials in the Barack Obama administration continue to praise Colombo. This misleading article serves as another reminder that, on the public diplomacy front, there's plenty of room for improvement.