US Sends B-52 Bomber Over South Korea in Response to Pyongyang's Nuclear Test
The low-level flight occurred on January 9 in the vicinity of Osan, South Korea.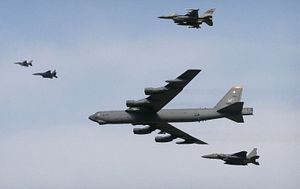 On January 9, the United States dispatched a B-52 bomber from Andersen Air Force base in Guam to fly over South Korea as a sign of resolve and solidarity with Seoul in response to a recent nuclear test by North Korea.(See: video of the low-level flight near Osan Air Base, located about 48 kilometers south of Seoul.)
"This was a demonstration of the ironclad U.S. commitment to our allies in South Korea, in Japan, and to the defense of the American homeland," said Admiral Harry B. Harris Jr., commander U.S. Pacific Command, according to a press release. "North Korea's nuclear test is a blatant violation of its international obligations. U.S. joint military forces in the Indo-Asia-Pacific will continue to work with all of our regional allies and partners to maintain stability and security."
According to the U.S. Pacific Command, the B-52 Stratofortress was accompanied on its flight by two Republic of Korea Air Force F-15K Slam Eagles and two U.S. Air Force F-16 Fighting Falcons. Upon completion of the flight, which took place in the vicinity of Osan Air Base around noon on January 9, the B-52 returned to the island of Guam.
The B-52 Stratofortress, a long-range, heavy bomber that can fly up to 15,200 meters (50,000 feet) and has the capability to carry 31,000 kilogram (70,000 pounds) of nuclear or precision guided conventional ordnance, was armed with nuclear missiles and "bunker buster" bombs while crossing South Korean territory.The B-52 remains the backbone of America's airborne nuclear deterrent.
As I reported previously (See: "US B-52 Bomber to Get New Long-Range Cruise Missile"), the B-52 can perform strategic attack, close-air support, air interdiction, offensive counter-air and maritime operations, according to the U.S. Air Force website. The aircraft, with an unrefueled combat range in excess of 8,800 miles (14,080 kilometers), is expected to remain in service at least until the 2040 when it will be replaced by the new Long-Range Strike Bomber (LRS-B).
The B-52 flight time from Guman to South Korea was around 4 hours. "The speedier-than-expected deployment could indicate signs of the U.S.' intention that it will retaliate severely if the North makes further provocations," a South Korean defense official told Yonhap news agency.
The flight "demonstrates one of the many alliance capabilities available for the defense of the Republic of Korea," Lieutenant General Terrence O'Shaughnessy, United States Forces Korea deputy commander and U.S. Seventh Air Force commander, said after the flight.
Yonhap also reports that the United States is considering dispatching the USS Ronald Reagan, a nuclear-powered aircraft carrier, based in Yokosuka, Japan, off the coastline of the Korean peninsula, in addition to a nuclear submarine and F-22 Raptor aircraft. However, U.S. Forces Korea could not confirm the dispatch of U.S. military assets, according to Reuters.
Seoul and Washington are also considering moving a joint naval exercise to an earlier date South Korean media reports. According to the official newspaper of the Workers' Party of Korea, the United States is "is going crazy with its military exercises in Korean waters using aircraft carriers and nuclear-armed submarines that are aimed at conquering Pyongyang." In early 2013, the United States last dispatched B-52s and F-22s aircraft close to North Korea's southern border as a show of force.