South China Sea: US Flies Nuclear-Capable Bombers Near Scarborough Shoal
The bombers were en route to Guam from Diego Garcia.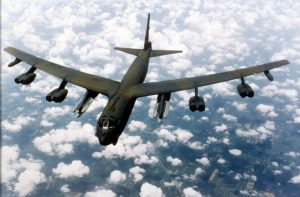 On Monday, two nuclear-capable U.S. Air Force B-52H Stratofortress strategic bombers transited the South China Sea, flying near the China-held, Philippine-claimed Scarborough Shoal. The bombers were flying from Diego Garcia, in the Indian Ocean, to Andersen Air Force Base on Guam in the western Pacific Ocean.
The U.S. Department of Defense described the operation as a "routine training mission," according to a statement. The operations were "intended to maintain the readiness of US forces." "U.S. Pacific Command's [continuous bomber zone] CBP missions, which have been routinely employed since March 2004, are flown in accordance with international law," Logan said.
According to a U.S. government source who spoke to CNN about the bomber flyover in the South China Sea, both B-52Hs had been instructed to fly 20 miles from the islands. Earlier this year, the U.S. Navy sent an Arleigh Burke-class guided missile destroyer to conduct a freedom of navigation operation (FONOP) within 12 nautical miles of Scarborough Shoal.
The flight by the two bombers is not a first in the South China Sea, but it does come shortly after remarks by U.S. Secretary of Defense Jim Mattis in Singapore accusing China of "intimidation and coercion." Mattis, speaking at the Shangri-La Dialogue, highlighted China's militarization of features in the South China Sea and stated U.S. resolve to remain deployed in the region.
Monday's flyby of Scarborough Shoal serves as a symbolic reminder of Mattis' message at the Shangri-La Dialogue, that the Indo-Pacific is the United States "priority theater." The choice of Diego Garcia and Guam as the two nodes of the bombers' transit illustrates the U.S. reach across the entirety of Indo-Pacific region.
The move also comes after Mattis oversaw the renaming of the U.S. Pacific Command to the Indo-Pacific Command last week—another symbolic gesture to underline the importance Washington afford to this region.
The flyby near Scarborough Shoal will be viewed in the region as part of a larger response by the United States to China's militarization of features. Following news of China's deployment of electronic warfare equipment, anti-ship missiles, and surface-to-air missiles to the Spratly Islands, and its first-ever landing of an H-6K strategic bomber in the South China Sea, the United States not only staged the first-ever known FONOP using two warships, but also disinvited the People's Liberation Army-Navy (PLAN) from the upcoming Rim of the Pacific (RIMPAC) 2018 naval exercise.
The decision to disinvite the PLAN was described by a Pentagon spokesperson at the time as part of an "initial response" to China's actions. Monday's flyby is likely another component of that response.