China: North Korea's Nuclear Tests a 'Slap in the Face' for US
China is "seriously concerned" about North Korea's upcoming missile test, but thinks the U.S. is partly to blame.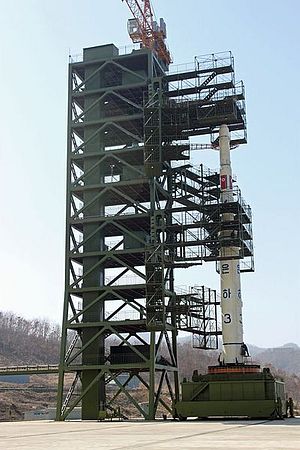 North Korea has made it official that it's planning a satellite launch, which many countries (including the United States and South Korea) view as a thinly veiled pretext for testing out a ballistic missile. North Korea told two United Nations agencies – the International Maritime Organization and International Telecommunication Union – that it plans to launch a satellite between February 8 and 25. That news will bring renewed urgency to efforts to put together a sanctions package at the United Nations Security Council – a task that will largely rely on reaching consensus between the United States and China.
So far, neither side has shown any inclination of altering long held positions, with Washington insisting on isolating sanctions while Beijing advocates for dialogue with Pyongyang.
China has consistently urged all parties not to take actions that could increase tensions on the Korean Peninsula. Accordingly, its Foreign Ministry responded with some dismay at the news that North Korea is preparing a launch. China is "seriously concerned" about the launch, spokesperson Lu Kang said on Wednesday. He noted that North Korea "has the right to make peaceful use of the space, but this right is subject to restrictions of the Security Council resolutions."
"Under the current situation, it is hoped that the DPRK would exercise restraint, act with discretion and refrain from any actions that might escalate the tension on the Korean Peninsula," Lu added.
However, Lu also made clear that China doesn't place all the blame for North Korea's decisions on Pyongyang itself. After expressing regret over the collapse of the Six Party Talks – China's preferred method for resolving the Korean nuclear issue, Lu effectively blamed the United States for North Korea's recent nuclear tests. "[I]n response to relevant countries' constant outcry for pressure and sanctions, the DPRK started nuclear test and conducted it over and over again," Lu said. "In this sense, the DPRK did slap the relevant country across the face."
Lu added that, though China does not want to see tensions rise, "if relevant parties insist on doing so, then it is not something that we could stop." However, he added that China "will by no means allow war or instability on the Peninsula."
"We will by no means allow any country to pursue its selfish gains while the international community is working for the target of denuclearization," Lu said. Given the context, however, it was unclear whether Lu was referring to North Korea, the United States, or both as countries pursuing "selfish gains."
Meanwhile, China's special representative on Korean Peninsula affairs, Wu Dawei, arrived in Pyongyang on February 2 for talks with the North Korean government. Wu has already met with his counterparts from South Korea and the United States. However, Lu cautioned against viewing Wu's current trip as a step forward in multilateral diplomacy – "It is a bilateral exchange between China and the DPRK," he said, adding that Wu would exchange views with North Korean officials "on the current situation of the Korea[n] Peninsula."