North Korea Launches Rocket; US, South Korea Consider THAAD
North Korea conducted a missile launch on Sunday, prompting outrage from Seoul and Washington.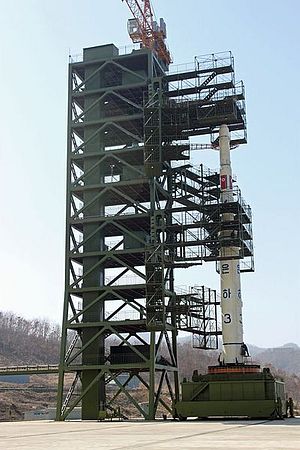 North Korea has made good on its promise to launch a long-range missile. The launch, Pyongyang's sixth, came just before 9 am local time on February 7 (9:30 am in South Korea, thanks to North Korea's decision to shift its time zone last summer). According to U.S. Strategic Command, the missile "was tracked on a southerly launch over the Yellow Sea" after launching from the Sohae Satellite Launching Station. The launch comes just over a month after North Korea conducted its latest nuclear test.
North Korea said that the purpose of the launch was to carry an earth observation satellite, Kwangmyongsong-4, to orbit. According to North Korea's KCNA, the attempt was successful – the news agency reported that the satellite entered orbit just under 10 minutes after lift-off. However, South Korea's Yonhap News Agency claimed that the rocket "burn[ed] up" and fell into the ocean to the southwest of Jeju Island, off the southern tip of the Korean Peninsula. You can watch KCNA's broadcast of the launch on YouTube.
Despite North Korea's claim that it was "legitimately exercising the right to use space for independent and peaceful purposes," South Korea and the United States moved quickly to condemn the launch. Both countries consider the move little more than an excuse to test out a ballistic missile. South Korean President Park Geun-hye called the launch "an unacceptable provocation" and her deputy chief of national security, Cho Tae-yong, promised that "the government will continue to put necessary pressure on North Korea so that North Korea has no other choice but to change."
U.S. National Security Advisor Susan Rice said the launch was "yet another destabilizing and provocative action and … a flagrant violation of multiple United Nations Security Council resolutions." She added, "We call upon the international community to stand together and demonstrate to North Korea that its reckless actions must have serious consequences. "
Park also said that the United Nations Security Council "should quickly come up with strong sanctions." However, there's been little progress on reaching agreement on sanctions since North Korea's nuclear test on January 6, thanks to disagreements between the United States and China. China, meanwhile, has shown little willingness to back increased pressure on Pyongyang, preferring to advocate for a return to the Six Party Talks.
In a statement on the launch, Chinese Foreign Ministry spokesperson Hua Chunying offered China's "regrets that the DPRK [North Korea] insisted on using ballistic missile technology to carry out the launch in spite of the pervasive opposition of the international community." But rather than calling for a swift international response, Hua said that China hopes "relevant parties could react with calm and caution."
With a strong coordinated response from the UN likely out of the picture, South Korea and the United States are making their own moves. Notably, after months of speculation, the two sides said they would officially enter negotiations for the deployment of a U.S. missile defense system on South Korea soil. U.S. and South Korean officials had both previously made comments about a possible Terminal High Altitude Area Defense (THAAD) system deployment, but also emphasized that there were no formal negotiations taking place. The latest combination of a nuclear test and missile launch now has pushed the THAAD issue forward.
For its part, Beijing has strenuously resisted THAAD deployment in North Korea, viewing it as a direct security threat to China. Hua said China was "deeply concerned" by the U.S.-South Korea decision. "Moving ahead with the deployment of anti-missile systems in the region will further raise tensions on the Korean Peninsula," she added.
Yonhap also reported that South Korea would increase anti-North propaganda broadcasts on loudspeakers near the Demilitarized Zone in response to the launch.
Meanwhile, Yonhap said that Seoul's intelligence agency had seen signs Pyongyang was preparing for another nuclear test — perhaps so that North Korea can return to its normal pattern of conducting a missile test, then carrying out a nuclear test in response to whatever sanctions are rolled out.