China's Defense Posturing Shields Its Economic Distress
Could a Chinese economic slowdown provide ASEAN leaders with some much-needed leverage?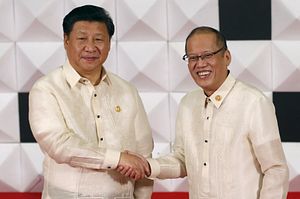 China is facing an uphill battle on two fronts. At home, government prestige is waning as the economy falters with Chinese people sending their money abroad as the stock market stumbles amid a slowing economy and a deteriorating currency.
And as the bad economic news continues to drip out of China so do the dispatches about its military maneuvers in the South China Sea, known as the East Sea in Hanoi and the West Philippine Sea in Manila, where world patience with Beijing over this issue is again wearing thin.
It came to an embarrassing head earlier this month when surface-to-air missiles (SAMs) were discovered on a disputed, Chinese-occupied island in the Paracels as ASEAN leaders were sitting down for an unprecedented meeting with U.S. President Barak Obama in California.
"The decision to install the SAMs also appears timed to coincide with a two-day summit of ASEAN leaders, widely seen as an effort by Washington to gather support for its 'Asia pivot' policy intended to curb China's assertive posture in Southeast Asia," said Gavin Greenwood, an analyst with Hong Kong-based Allan & Associates.
Greenwood told The Diplomat that the installation of SAMs "appears to be a measured response by Beijing to what it must view as the steady U.S.-led challenge to its territorial maritime claims over much of the region."
"The choice of Woody island is significant as, while contested by Vietnam and Taiwan, it has been occupied by the Chinese military since 1956," he said.
The deployment prompted a formal complaint from Hanoi and a chorus of international condemnation.
Hanoi said Beijing's missile deployments were "serious infringements of Vietnam's sovereignty over the Paracels, threatening peace and stability in the region as well as security, safety and freedom of navigation and flight."
U.S. Secretary of State John Kerry was clearly angered by Chinese disregard for international law governing international shipping lanes which carry more than half the word's trade.
The United States was also mindful that Chinese leader Xi Jinping had promised during a White House visit last year not to militarize the dispute while the Japanese said China had changed the status quo with a unilateral move that could not be overlooked.
ASEAN's relationship with China has been shaped by military posturing and economic growth – fear and greed – ever since the Cold War ended and China began its emergence as an economic power more than 25 years ago.
As the Chinese economy falters, however, the rewards for ASEAN dependence are less obvious – export growth into China has fallen from around 20 percent a year and is actually contracting in some countries – and this has added some momentum to Washington's "Asian pivot."
U.S. President Barak Obama has already outflanked Beijing on trade by locking it out of the Trans-Pacific Partnership (TPP) and the meetings he held with ASEAN leaders at Sunnylands were more about finance than defense-related issues.
Nevertheless, Washington wants an ASEAN strong enough to stand-up to China and capable of pushing Beijing on pertinent issues ranging from North Korean nuclear tests to maritime disputes in the seas which divides China and its neighbors.
The Paracel Islands sit off the coast of Vietnam and the Spratly Islands lie to the west of the Philippines. Both chains are within China's nine-dash line, a map encompassing its maritime claims stretching as far south as the Natuna Islands, which it lodged with the United Nations in 2009.
Vietnam, the Philippines, Malaysia, Brunei and Indonesia all have overlapping claims.
However, Peter Maguire, a professor with the University of North Carolina Wilmington, said the talks failed to reflect the political realities and with that, Obama's pivot to Asia policy had led to a pseudo-showdown in the South China Sea.
"There is no way a fractious ASEAN coalition can face down China in their own backyard and sphere of influence. With the Obama administration bogged down in endless and fruitless 'whack-a-mole' efforts against 'terrorism,' the timorous American president does not have the stomach to risk a naval battle in the Pacific with China," he said.
"American military posturing looks ridiculous to the Chinese leaders, they know how much face and power we have lost in the global war on terror. The only American weapons the Chinese truly fear are economic."
Political Theater
Xi is also battling perceptions at home where his Communist government has attempted to control the political theater surrounding the collapse in the Chinese currency, the renminbi, its stock market and the economic downturn.
Attempts to impose capital controls failed miserably and The Economist recently estimated that $1 trillion, at an annualized rate, was taken out of China during the last six months of 2015, much of it through a process known as smurfing.
Under Chinese law, individuals are allowed to transfer or take $50,0000 out of the country a year. Smurfing requires each family member to carry money out of the country on behalf of the clan, and often the limit rules are broken.
The problem for China is it is having a hard time proving it is in control of the economy when so many of its own people are voting with their cash by moving it.
"I believe that Chinese economic woes are pushing the empire to make uncharacteristically aggressive moves," Maguire said, putting the emphasis back on the South China Sea.
A major sticking point is Beijing wants to negotiate with each of the claimants in the dispute on a bilateral basis but ASEAN members, particularly Vietnam and the Philippines, want a multilateral approach to negotiations through ASEAN mediation with China.
China is also refusing to acknowledge rulings by international courts and was infuriated by the Philippines which has initiated legal action against China over this dispute under the United Nations Convention on the Law of the Sea (UNCLOS) at the Permanent Court of Arbitration.
A decision is expected in the first half of this year.
"Obama's California ASEAN leader summit is in direct response to China's South China Sea policy, and can be seen as part of the U.S. strategy," Greenwood of Allan & Associates said.
He said there were other examples of regional countries demonstrating their wariness of dealing with China and its South China Sea policy through what he calls "economic signaling."
One example is the $5.5 billion Jakarta-Bandung rail deal which has stalled amid "a bureaucratic snafu."
"It could also be a subtle message over Beijing's ambitious claims to sea areas that by any normal measure are indisputably sovereign Indonesian territory," Greenwood said.
To date the protagonists in this dispute have largely succeeded in isolating economics and trade from defense and military while dealing with them as separate issues.
But as tensions over the disputed islands are increasingly ratcheted up, while China feels the fiscal pinch at home, maintaining that important demarcation in international diplomacy could prove difficult.
The 10 ASEAN countries, even as a collective, do not have anywhere near the military capability required to challenge China's maritime ambitions. China's weakening economy is a different matter and that might provide some leverage for ASEAN leaders in future negotiations.
Luke Hunt can be followed on Twitter @lukeanthonyhunt