Chinese Warships Visit Thailand, Cambodia on Goodwill Tour
Next stop: the Spratly Islands.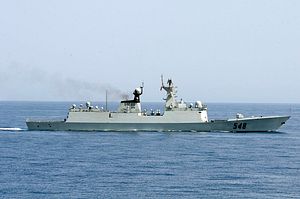 A Chinese People's Liberation Army Navy task force is making the rounds in Southeast Asia right now, part of a broader regional tour as the ship return to China. The guided-missile frigates Liuzhou and Sanya, as well as the supply ship Qianghaihu, left China in August 2015 for anti-piracy missions in the Gulf of Aden. On their way home to China, the ships are making a goodwill tour of South and Southeast Asia, having already stopped in Pakistan, Sri Lanka, Bangladesh, India, Thailand, and now Cambodia.
The task force arrived in Thailand's Laem Chabang Port on February 17, fresh off participating in India's International Fleet Review. While there, the ships checked off all the hallmarks of a goodwill visit: military exchanges (including a seminar on anti-piracy operations), a welcome reception, friendly football matches, and even a joint drill focused on at-sea communication and movement in formation.
The taskforce departed Thailand on February 22 and docked the same day at Sihanoukville Autonomous Port in Cambodia, for the start of a five-day visit. There's a similar slate of activities on the docket: football games, official meetings and exchanges, and a joint drill (this time, a rescue operation, according to Xinhua). Cambodia has hosted Chinese naval vessels before, but this is the first time Chinese warships have paid a port visit. The two previous visits from PLAN vessels involved a training ship (in 2008) and China's Peace Ark hospital ship in 2013.  
The choice of Thailand and Cambodia as the task force's stops in Southeast Asia is purposeful. Along with China and Taiwan, four of the 10 ASEAN members (Brunei, Malaysia, the Philippines, and Vietnam) have competing claims to features in the South China Sea. Those disputes, along with China's move to more assertively lay claim to what it considers its maritime rights and territory, have caused tensions within ASEAN over how to respond (something dealt with in far more detail by our Southeast Asia expert, Prashanth Parameswaran). Cambodia, which has no claim in the South China Sea disputes, is a close Chinese partner. Thailand, another non-claimant, has traditionally been close with the United States, its treaty ally, but fractures have formed in that relationship since the military coup in 2014. Since then, the junta has been exploring closer ties to China, even in the security realm – with the task force's visit as a small example of military cooperation.
After leaving Cambodia, the task force will head for the Spratly Islands in the South China Sea "to conduct cruising missions," according to China Military Online. CMO cited Rear Admiral Yu Manjiang, the commanding officer to the task force, as saying that "[r]einforcing cruising strength in the waters of the South China Sea will help ensure China's maritime security."