India's Military to Allow Women in Combat Roles
India is joining a handful of countries that permit women to take on combat roles.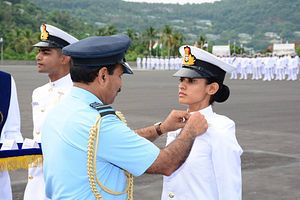 India will soon allow women to take up combat roles in all sections of its military, the President of India and supreme commander of the Indian Armed Forces, Pranab Mukherjee said in an address to both houses of the Indian Parliament this week, the Times of India reports.
"My government has approved the induction of women as short service commission officers and as fighter pilots in the Indian Air Force. In the future, my government will induct women in all the fighter streams of our armed forces," Mukherjee said on the eve of parliament's budget session. "In our country 'Shakti', which means power, is the manifestation of female energy. This Shakti defines our strength," he added.
Some Indian military officials expressed skepticism over the president's remarks. "Can women officers be deployed in bunkers and posts along the LoC amid heavy shelling and infiltration bids? Similarly, warships and submarines have constricted spaces," one officer said. "Only a few of the new warships (like the Shivalik-class stealth frigates) cater for individual bathrooms for some officers. The rest have open bathrooms."
"Even the U.S. and the U.K. do not have women in front-line ground combat as of now. Gender equality is fine, but you may have to draw the line somewhere in the armed forces," another officer said.
Women soldiers argue that they should at least be free to have the option to serve in combat arms. However, they also emphasize that the principal struggle remains to get more female permanent commission (PC) officers into the different service branches, since short service commission officers can only serve for a period ranging from 5-14 years, which prohibits them from rising to higher military ranks.
"For us, as of now, the fight is mainly over getting PC (instead of SSC [short service commission]) in different branches. But if some want combat roles, they should be allowed to opt for them," according to one female officer. It was only in 2010 that the Delhi High Court ruled that women are allowed to hold permanent commissions in the Indian Army and Air Force.
The officer did acknowledge potential operational problems that could occur by further opening up the branches to women, "especially in deploying women in direct ground combat roles."
Women have been allowed to serve as officers in combat support arms and services since the early 1990s. Out of 1.3 million active personnel in the Indian Armed Forces only 2.5 percent are female. The majority, 1436 women, serve in the Indian Army, 1331 in the Indian Air Force, 532 in the Indian Navy.
As I reported in October 2015 (See: "India: Air Force to Induct Its First Female Fighter Pilots in 2017"), the Indian Air Force plans to allow women to fly combat missions by June 2017. This decision has been taken on an experimental basis and will be reviewed by the government after five years.
"There are currently 1,500 women serving in the IAF, including 94 pilots and 14 navigators. However, female pilots and navigators have so far been confined to non-combat roles and serve in transport and helicopter units," I explained.