It's Official: China's Military Has 5 New Theater Commands
China scrapped its seven military regions in favor of five theater commands.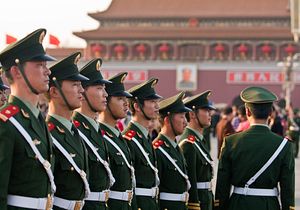 China inaugurated five new theater commands of the People's Liberation Army on Monday, with Chinese President Xi Jinping presenting flags to the new commanders during a ceremony in Beijing. The new theater commands – which replace the seven previously existing military regions – bring another piece of Xi's ambitious plan for PLA reform into reality.
Most of the commanders of the new military regions previously commanded one of China's seven military regions, based at Shenyang, Beijing, Jinan, Nanjing, Guangzhou, Chengdu and Lanzhou. However, many were given command of theaters far from their original base of power, ensuring no one commander can maintain a network of personal loyalty that supersedes Party authority. Liu Yuejun, formerly the commander of the Lanzhou Military Region (MR) in northwest China will now command the Eastern Theater. The former commander of the northern Shenyang MR, Wang Jiaocheng, will take over the Southern Theater Command, while Zhao Zongqi of the eastern Jinan MR move to commander of the Western Theater Command.
The Beijing MR saw the least displacement for its commanders – and, in fact, a double promotion. Former Beijing MR commander Song Puxuan will head up the Northern Theater Command, while his former deputy commander, Han Weiguo, received a promotion to commander of the Central Theater.
On the other end of the scale, three previous MR commanders were left high and dry:  Nanjing MR commander Cai Yingting, Guangzhou MR commander Xu Fenglin, and Chengdu MR commander Li Zhocheng.
According to Defense Ministry spokesperson Yang Yujun, the new military commands are based on the functions and structure of the military regions they will replace, with improved mechanisms for command and logistics. Yang also said the PLA will establish a Transitional Work Office to ensure a smooth transition from the old MRs to the new theater commands.
The move to reorganize China's military commands is a broader part of Xi's military reform agenda. The overall plan is designed to both strengthen Party control over the military, with centralized control now in the hands of the Central Military Commission, of which Xi is chairman. The reforms are also intended to increase China's capability to undertake joint operations, crossing service lines.
Xi stressed both these points in his remarks to the new commanders as reported by Xinhua. The goal, Xi said, is for joint battle command system to be "absolutely loyal, resourceful in fighting, efficient in commanding and courageous and capable of winning wars." He also emphasized the need for enhanced training in joint operations "in order to win the initiative in future wars," as Xinhua put it.
As for the details of their operation, figuring out exactly what to do with the new theaters is apparently a work in progress. Part of the new commanders' jobs will be figuring that out; Xi asked the commanders to "speed up the development of a strategy for theater commands," according to Xinhua. China Military Online reported that the theater commands would be tasked with "responding to security threats from their strategic directions, maintaining peace, deterring wars and winning battles."