Opposition Leader Convicted on Terrorism Charges in Maldives
Sheikh Imran Abdulla of the Islamic Adhaalath Party in the Maldives was convicted on terrorism charges.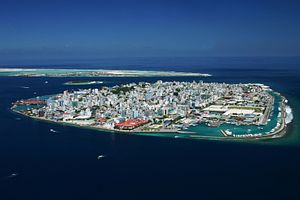 Maldives' dangerous backslide away from democracy continued this week when a court in the small Indian Ocean island state sentenced an opposition leader to 12 years in jail. Sheikh Imran Abdulla, a leader in the Islamic Adhaalath Party, was convicted on terrorism charges in connection with a speech that he'd delivered where he spoke out in support of Mohamed Nasheed, the country's first democratically elected president who was himself convicted on terrorism charges last March in a decision that drew widespread protest.
According to Reuters, Abdulla was sentenced "for comments he made in an anti-government speech during a mass protest against Nasheed's arrest on May Day last year." In its case against Abdulla, the Maldivian government claimed that the opposition leader had incited protesters "to confront police" in the country.
Abdulla's lawyer denied the allegations. "We believe the judgment is grossly unfair because he has not called for violence in his speech,"Husnu Suood, Abdulla's lawyer, told Reuters.  "He clearly asked the participants at the rally to refrain from violence and had taken all steps to prevent violence," he added.
The United States has criticized the government's heavy-handed crackdown on the opposition in the country and spoke out this week regarding Abdulla's conviction. Mark Toner, a spokesman for the U.S. State Department, described the process through which Abdulla was sentenced as "deeply flawed." During a press briefing on Wednesday in Washington D.C., Toner called on the government to change its behavior: "We renew our call for the Maldivian Government to end politically motivated trials and to take steps to restore confidence and a commitment to democracy and human rights including freedom of expression and the rule of law and judicial independence."
Yameen Abdul Gayoom, the current president, appears to have grown increasingly worried about attempts to undermine his leadership from both inside and outside his own party. In September 2015, an explosion occurred on board a boat carrying Yameen and his family, suggesting an assassination attempt. Though the U.S. Federal Bureau of Investigation found in November that there was no conclusive evidence of foul play or a bomb, Yameen's vice president, Ahmed Adeeb, was arrested in connection with the explosion. After the explosion, legislators from the ruling Progressive Party of Maldives (PPM) pledged their loyalty to Yameen, to stave off any appearance of internal factionalism.
Abdulla's arrest and the continued use of heavy-handed tactics by the government suggest the prospects for free and fair democracy remain remote for the Maldives today.