Democracy on the Brink in Maldives
The current crisis is the culmination of political trends years in the making.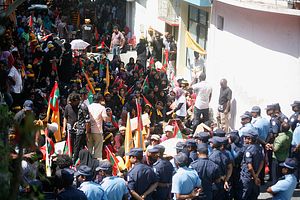 On Thursday, February 1, the island nation of the Maldives was thrown into chaos by the stroke of a pen. The country's Supreme Court issued an unexpected order, demanding the immediate release of nine high-profile political prisoners – including former President Mohamed Nasheed – and the return of a group of suspended opposition MPs to parliament.
Since then, events have escalated at a breathtaking pace. A standoff between the government — led by President Abdulla Yameen — and the judiciary has pushed the Maldives into a full-blown political crisis.
In less than a week, the government has not only refused to heed the Court's order, but declared a state of emergency and suspended large parts of the constitution. Authorities have threatened to disband independent media, arbitrarily arrested opposition MPs, and police have roughed up protesters across the country. Late on Monday night, special operations forces stormed the Supreme Court and arrested Chief Justice Abdulla Saeed as well as arresting former President Maumoon Abdul Gayoom in his home. A day later, the remaining judges on the Supreme Court bench had rescinded the original order, apparently cementing Yameen's control of the state again.
For those who mainly associate the Maldives with lavish resorts and pristine beaches, the events of the last few days may have come as a shock. But in reality, this is a country gripped by an escalating political crisis that has long threatened to erupt.
Over the past years, Yameen has grown increasingly authoritarian, lashing out at opponents and former allies. His government has suppressed peaceful protests, shut down independent media outlets, and jailed political opponents on flimsy grounds. Widespread and credible allegations of corruption have only added to his government's unpopularity. There are even rumors that he has threatened civil servants, saying they must attend his rallies or lose their jobs.
At the heart of this crisis is a split in Yameen's Progressive Party of Maldives (PPM), which has held power since 2014. The PPM was established in 2011 by Maumoon Abdul Gayoom, the former dictator who ruled Maldives with an iron fist for three decades. Gayoom also happens to be the half-brother of Yameen and was long seen as his political mentor and most important benefactor.
Over the past two years, the relationship between Gayoom and Yameen has grown increasingly fraught as they have clashed over a number of key issues. Several Gayoom loyalists started abandoning the PPM one by one, until the split was formalized last year and Yameen eventually ousted Gayoom from the party. As a result, Yameen's ruling coalition has all but fallen apart.
At the same time, the Maldives' historically fraught opposition has united under a common banner, with the explicit purpose of unseating Yameen in presidential elections that are due to be held later this year. Remarkably, this opposition coalition has also brought Gayoom's faction of the PPM into its fold — an unholy alliance that would have been unthinkable just a few years ago. The opposition's surprisingly strong showing in local elections last year will only have added to Yameen's sense of isolation and insecurity.
A quick glance at the list of names among the "Maldives Nine" – the political prisoners whose release the Supreme Court ordered – gives you a sense of the ever-shifting soap opera that is Maldivian politics. Among them are Ahmed Adeeb, Yameen's former vice president, and Colonel Mohamed Nazim, an ex-defense minister. Both men are former allies of Yameen who fell out of favor, and who have received long prison sentences after trials that the UN and human rights groups deemed politically motivated.
Of course, the most high-profile name among the "Nine" is Mohamed Nasheed, the charismatic former president who won Maldives' first-ever democratic election in 2008. Nasheed caught the world's imagination during his time in office through his championing of climate-related causes, including by staging an underwater cabinet meeting.
Nasheed was jailed on "terrorism" charges in 2015 after a trial most observers – including the UN – agreed was manifestly unfair. He managed to gain political asylum in the United Kingdom after visiting London to receive medical treatment, and has since based himself in Sri Lanka. His conviction would have prevented him from running in the upcoming election, but he immediately declared his intention to stand once the Supreme Court ruling became public.
The government first challenged the legality of the Supreme Court ruling and claimed that it threatens public security. This is the same government, however, that for years has relied on Maldives' notoriously politicized judiciary to jail political opponents. To many Maldivians it has been ironic – to say the least – to hear Yameen and his supporters suddenly take an interest in due process.
Yameen has shown that compromise is out of the question and quickly moved to shore up his control of the state. Although the situation appears to be back to the status quo, tensions are still running high. The opposition has called for mass protests and even asked for international intervention. Maldivian police have a checkered history of using excessive force to curb protests. With neither side willing to back down, the risk of violence is all too real.
International condemnation of Yameen's actions has been swift. The European Union, United States, and Maldives' all-important neighbor India have all urged the government to implement the Supreme Court order. China and Saudi Arabia, both of which wield increasing influence in Malé, have, however, not taken sides – at least in public.
The prospect of free and fair elections later this year looks bleak, in particular as some of the president's main opponents will in all likelihood be barred from standing. Even though Yameen appears to have won the battle for now, the past week has been another bruising experience for the Maldives' young democracy.
Olof Blomqvist is an independent South Asia analyst.