Why are Russians Leaving Kazakhstan?
For 25 years, Kazakhstan has been becoming more Kazakh.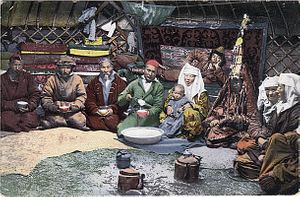 When Kazakhstan first gained its independence from the Soviet Union in late 1991, the country boasted the somewhat dubious honor of being the lone former Soviet republic in which the titular ethnicity didn't represent a majority of the country's population. Indeed, in Kazakhstan, ethnic Kazakhs barely represented a plurality, clocking in at approximately 40 percent of the country's population – only slightly more than the country's ethnic Russian population.
A quarter-century later, though, the country's titular ethnicity has all but ensured itself majority status for the foreseeable future. Ethnic Kazakhs, at last check, now represent nearly 70 percent of the country's demographic makeup. If anything, the surge in ethnic Kazakhs within Kazakhstan has come alongside a commensurate drop in the population of ethnic Russians, whose numbers now hover around 20 percent of Kazakhstan's populace, relegated largely to the country's north and northeast.
The shift, of course, wasn't necessarily unexpected; all post-Soviet nations have seen notable changes in their ethnic makeup. Kazakhstan, however, presents a unique case – and a handful of new reports have helped shine light on how ethnic Kazakhs managed to regain such an overwhelming percentage of the nation's population in such a short period.
Earlier this month, Astana Times relayed a series of new demographic figures relating to Kazakhstan's post-Soviet independence. According to the publication, nearly one million individuals had received Kazakhstani citizenship since 1992 – with almost 90 percent of them ethnic Kazakhs. According to Astana Times, the largest sources of returning ethnic Kazakhs from 2010-2015 were China and Uzbekistan, each seeing over 77,000 individuals gain Kazakhstani citizenship. Russia also provided some 5,000 ethnic Kazakhs since 2010.
The numbers of those gaining citizenship are contraposed by the ethnic Russians who have continued a steady stream northward, repatriating to Russia proper. As RFE/RL's Bruce Pannier and the team at Qishloq Ovozi recently found, nearly 20,000 Russians uprooted for Russia during the first nine months of 2015, a slightly higher clip than in 2014. Kazakhstan's Economic Ministry tossed a bit of cold water on the numbers, noting that the mid-2000s saw nearly double the numbers of ethnic Russians leave annually. Moscow also backed up Astana's assessment, noting that the emigration figures since 2007 saw approximately 40,000 Russians uproot from Kazakhstan annually.
Despite Astana and Moscow placing the recent numbers in context, the continued exodus of ethnic Russians remains something of a mixed blessing for Astana. Not only are these Russians often "skilled laborers, doctors, teachers, and other professionals," as Pannier noted, but their exodus points to the Kazakhstani government's broader struggles at retaining the country's ethnic minorities, and stanching simmering chauvinism against the country's non-Kazakh populations. Evidence continues to pile that these ethnic tensions have become an increasing issue over the past few years – as seen, for instance, just last week.
Such tensions come with a pair of concomitant realities beyond Astana's control. First, Russia's sudden emphasis on ethnicity superseding citizenship, as seen most evidently in Crimea. And second, collapsed energy prices which effectively nullify Astana's claims of an ever-improving domestic economy. The two phenomena can't necessarily be extricated from one another; as the macroeconomic outlook continues darkening in both Russia and Kazakhstan, tensions — both fiscal and ethnic — only increase. Russian leader Vladimir Putin has hinted that putatively Russophobic sentiments in Kazakhstan could incur a response from an expansionist Moscow, which has already espoused designs on northern Kazakhstan. As with nationalist bases hardening on both sides of the border, tensions are almost certain to increase.
For the time being, though, Kazakhstan continues to grow only more mono-ethnic, and continues to shed ethnic Russians. For 25 years, this pattern has held and there's little reason to think it will stop now.