A RAW Row: Did Pakistan Accuse Iran of Abetting Indian Espionage?
Does Pakistan really think that Iran is helping India spy in Balochistan?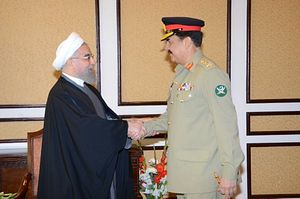 Iranian President Hassan Rouhani became the first Iranian head-of-government to visit Pakistan in 14 years over the weekend. While his visit resulted in a range of agreements and opportunities for face-time with Pakistani officials, one encounter in particular from Rouhani's voyage stands out. General Raheel Sharif, Pakistan's chief of army staff, met with Rouhani over the weekend and surprisingly brought up the issue of Indian intelligence activities in Balochistan with the Iranian president. The dialogue between the two men came shortly after a broader row between New Delhi and Islamabad over an Indian national who was arrested in Pakistan and accused of spying for India's Research and Analysis Wing (RAW). Rouhani rejected the notion that he had discussed RAW in Pakistan, saying that  "Whenever Iran comes closer to Pakistan such rumours are spread."
According to the Pakistani army's public relations head, General Asim Bajwa, Sharif "highlighted challenges being faced by [Pakistan and discussed] involvement of RAW in [Pakistan's] internal affairs, specially in Balochistan." "There is one concern that RAW is involved in Pakistan, especially in Balochistan, and sometimes it also uses the soil of our brother country Iran," Bajwa additionally noted. Bajwa continued that Sharif had reportedly told Rouhani that "they (RAW) should stop these activities and allow Pakistan to achieve stability."
The Pakistani military's decision to publicly state that Sharif had brought up the issue of a third country's intelligence agency's activities on Pakistani soil during a private meeting with the Iranian head of government is curious indeed. In essence, the disclosure amounts to, at best, a suggestion on Sharif's part that Iran may be abetting Indian spying in Pakistan, and, at worst, that Tehran is actively encouraging New Delhi to do so.
This Sharif-Rouhani encounter should be a reminder that even though Pakistan's borders with India and Afghanistan produce more headline-grabbing instability, the Balochistan border between Iran and Pakistan is far from stable. Violent Sunni militant groups have made the most of a governance vacuum in the province and regularly harass Iranian border authorities. In 2014, Iran and Pakistan even exchanged mortar fire. That same year, Iranian officials had publicly threatened to "send forces into Pakistan" to retrieve five Iranian soldiers that had been taken hostage by the radical Sunni militant group Jaish al-Adl. Balochistan's internal instability is a major source of concern for Islamabad, but the border with Iran has been less of a priority.
Then there's the issue of Indian spying in Balochistan. Over at the Indian Express, C. Raja Mohan has a particularly thoughtful look at this issue that captures the essence of the dispute, highlighting the legitimate reasons that India may want to spy on Pakistan. Pakistani authorities and commentators often lambaste RAW for concocting devious schemes in Balochistan, but the reality is likely more mundane. India no doubt spies on Pakistan. Just as Pakistan spies on India. States spy on other states. So it goes. But the latest row over an alleged Indian spy likely wasn't the spark for Sharif's unusually frank discussion with Rouhani. Finally, the likelihood of Iran directly assisting Indian spies in Balochistan, while certainly thrilling fodder for speculative geopolitical fiction, doesn't measure up with what's publicly known about the extent of Indo-Iranian security cooperation.
Shifting Sands in Iran-Pakistan Relations
It's more likely that despite the Sharif-Rouhani episode's poor optics, Iran-Pakistan ties across the Baloch border are poised to improve. Rouhani's visit certainly resulted in a range of deliverables that'll increase interconnectivity between the two neighbors. Crucially, the visit injected some much-needed momentum into the once-moribund Iran-Pakistan 'Peace' Pipeline that I've discussed over the years here at The Diplomat (see here, here, here, and here). Pakistan now needs to conclude a final 100 kilometers of pipeline construction to meet the Iranian end and thereafter would gain access to Iranian natural gas sourced from the South Pars field at a favorable price.
Moreover, though the pipeline's prospects had suffered from a combination of bureaucratic mismanagement by the Pakistani state and instability in Balochistan in the past, an important intervening variable in the meantime is China's massive $46 billion investment in Pakistan in the form of the China-Pakistan Economic Corridor (CPEC). To bolster CPEC, which terminates at the Gwadar port in Balochistan, Pakistan is considerably boosting internal security provisions in the province.
In addition to CPEC, the successful conclusion of the Joint Comprehensive Plan of Action (JCPOA) between Iran and world powers has removed the shackles of nuclear-related economic sanctions for Iran, improving its longer-term capacity to monitor its side of the unstable Balochistan border. Finally, an important complicating factor to Islamabad's approach toward Teheran is Pakistan's tightrope walk between Saudi Arabia and Iran following their sharp divergence earlier this year after Saudi Arabia executed Shia Sheikh Nimr al-Nimr. Both General Sharif and Pakistani Prime Minister Nawaz Sharif (no relation) had visited Iran in the wake of that split, reinforcing bilateral ties and attempting to play the part of an honest broker.