After Djibouti Base, China Eyes Additional Overseas Military 'Facilities'
China's foreign minister hints at an expansion of Chinese bases beyond just Djibouti. That shouldn't be a surprise.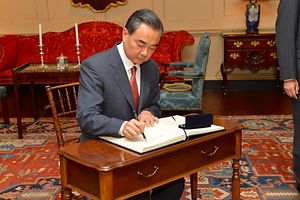 Speaking at a press conference during China's ongoing National People's Congress, Chinese Foreign Minister Wang Yi made a curious comment about the possibility of China pursuing additional overseas naval bases. "We are willing to, in accordance with objective needs, responding to the wishes of host nations and in regions where China's interests are concentrated, try out the construction of some infrastructure facilities and support abilities," Wang said, according to Reuters. "I believe that this is not only fair and reasonable but also accords with international practice," he elaborated.
Wang's remarks come shortly after the Chinese foreign ministry confirmed for the first time that construction had started on China's first overseas military base, which will be hosted in Obock, Djibouti, on the Horn of Africa, with strategic proximity to piracy hot spots in the Gulf of Aden and the Arabian Sea. Beijing is careful with its language in describing its upcoming facility in Djibouti. It prefers the term "support facility" or "logistic facility."
Beijing wants to be clear that the facility will be used to enable the People's Liberation Army-Navy (PLAN) to support its anti-piracy efforts and other activities that are a net positive for maritime public goods, including humanitarian assistance and disaster relief operations. Last year, for example, the PLAN played an important role in helping foreign nationals and Chinese nationals alike evacuate from Yemen as the Saudi Arabia-led coalition began air strikes against Houthi rebels there.
Wang's comments this week suggest that Djibouti will likely be the first of many similar "logistical" facilities to crop up, likely around the Indian Ocean, where China has several partner states. Wang makes it clear that Beijing will set up these facilities in response to the "wishes of host nations," but he was less clear about whether China is initiating this conversations by itself.
As I noted recently, what's striking about the Djibouti facility is the relatively quick turnaround from conception to construction. Consider that President Ismail Omar Guelleh of Djibouti confirmed that the country had opened talks with China on a possible facility in May 2015. Six months later, China confirmed from its side that it would establish a facility. In January, just eight months after Guelleh first confirmed the dialogue, the two sides had "reached consensus" on the terms under which China would build and operate the facility. Finally, construction began in February 2016.
Assuming that Beijing is able to recreate this turnaround rate with other partner states in and around the Indian Ocean, we could see similar facilities crop up across the region. Possible candidates for future Chinese facilities include Paksitan, Myanmar, Sri Lanka, the Maldives, and the Seychelles, though each of these states have unique political and diplomatic considerations to undertake before offering Beijing anything concrete. (Sri Lanka, for example, has grown a lot less acquiescent to Chinese overtures since its change of leadership last January.)
What's unmistakable is that with the establishment of its first overseas military facility in Djibouti, China has opened a door that long remained closed. With its foreign minister now openly discussing the possibility of future "host nations" in the plural, it shouldn't come as a surprise when China announces plans for similar facilities.
China's navy is fast becoming an expeditionary, blue-water navy with global aspirations. Accomplishing those aspirations without even a modest network of support facilities will be challenging.