Australia's Navy Begins Testing Combat Systems on Its First Air Warfare Destroyer
Integration and testing of the Aegis combat system aboard Australia's first air warfare destroyer has begun.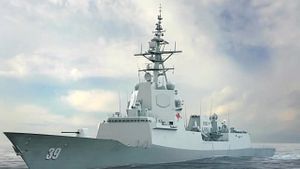 U.S. defense contractor Lockheed Martin has begun testing and integrating the Aegis combat system aboard the Royal Australian Navy's (RAN) first-of-class air warfare destroyer HMAS Hobart, a company press release reveals.
"The Lockheed Martin team has successfully brought Aegis to life," said the head of Lockheed Martin's Australia surface ships program, Rob Miligan. "Our team is dedicated to ensuring the successful delivery of HOBART's Aegis capability to the Royal Australian Navy."
As I reported previously (See: "Australia Begins Construction of Final Air Warfare Destroyer"):
The 7,000-ton Hobart-class will be the first vessels of the Royal Australian Navy built around the U.S. Navy's Aegis Combat System and will include "a SPY-1D air search radar, a 48-cell Mark 41 Vertical Launch System capable of fielding Raytheon Standard Missile 2s and the RIM-162 Evolved Sea Sparrow Missile (ESSM)," according to USNI News.

In addition, the ships will be equipped with advanced sonar systems and surface-launched torpedoes for anti-submarine warfare operations, and the Harpoon anti-ship missile system for use against surface threats, among a host of other armaments. The ships will also be capable of launching helicopters and unmanned aerial vehicles (UAVs) from their flight decks.
"This milestone is a significant step towards an increase in the Royal Australian Navy's maritime security capabilities through the seamless integration of the Aegis combat system to defend against advanced air, surface and subsurface threats," noted Commodore Craig Bourke, the RAN's program manager of the Hobart-class air warfare destroyer program.
"With more than 100 Aegis-equipped ships deployed worldwide, Australia is joining a family of allied nations that continues to push the boundaries of innovation with adaptable and affordable capabilities that meet the warfighter's multi-mission needs."
The Hobart-class air warfare destroyer program is the largest defense procurement project ever undertaken by Australia to date. Total costs for the new class of air warfare destroyers are estimated to be over $8 billion. The lead ship, HMAS Hobart, is slated for completion in June 2017, followed by the HMAS Brisbane in September 2018, and the HMAS Sydney in March 2020.
As I explained back in February (See: "Australia's Defense Budget to Jump 81% Over Next Decade"), Australia has initiated the most ambitious RAN shipbuilding program since the end of the Second World War. The RAN's surface fleet alone–next to the three new Hobart-class air warfare destroyers–will add nine new frigates specially configured for anti-submarine warfare, and 12 new offshore patrol vessels over the next ten years, in addition to life-extension programs for four mine hunting ships.