Australia's Deadliest Warship to Be Fitted With New Anti-Air Warfare Defense Technology
Australia's latest guided-missile destroyer will be fitted with the so-called cooperative engagement capability.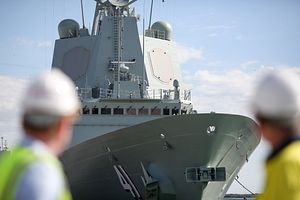 The Royal Australian Navy's (RAN) first-of-class air warfare destroyer HMAS Hobart will be fitted with the so-called cooperative engagement capability (CEC), Raytheon Company announced in a December 13 statement. The system allows the real-time sharing of sensor data on air targets, including incoming enemy aircraft and cruise missiles, among CEC-equipped units.
"Onboard the Royal Australian Navy's HMAS Hobart, CEC will expand the ship's battlespace awareness by sharing sensor data among a network of other Australian and allied CEC-equipped ships and aircraft," the statement reads.
"CEC is a real-time 'sensor-netting' system that brings together radar data into a single integrated air picture from geographically dispersed ships, aircraft, and ground-based units. This integrated picture improves task force effectiveness by enabling longer range, cooperative, or layered engagements."
The 7,000-ton HMAS Hobart was commissioned in September  2017. The new guided-missile destroyer is based on the Navantia-designed Álvaro de Bazán-class frigate (aka F-100) currently in service with the Spanish Navy. It is one of the most technologically complex and capable warships ever to be operated by the RAN. It is also Australia's first surface warship to be built around the U.S.-made Aegis combat system, as I noted back in March:
Each ship will be equipped with the AN/SPY-1, an advanced, automatic detect and track, multi-function phased-array radar system, which will be paired with the MK 41 Vertical Launching System, capable of firing Raytheon's Standard Missiles (SM) of all variants as well as the RIM-162 Evolved Sea Sparrow Missile. The SPY-1 is the heart of the Aegis combat system.
CEC interfaces with the Aegis combat system and will boost its early detection capabilities.
The Hobart is a multi-mission warship. Among other things, it is equipped with modern sonar systems and surface-launched torpedoes for anti-submarine warfare, as well as Harpoon anti-ship missiles for surface warfare missions. The Hobart will also carry helicopters and unmanned aerial vehicles (UAVs).
"The addition of CEC is a major building block for Australia in their defense against anti-air warfare threats in the Pacific Region," said U.S. Navy Captain Jonathan Garcia, CEC major program manager, Program Executive Office Integrated Warfare Systems 6.0, according to Raytheon. "This delivery to Australia marks a significant first – expanding the CEC network globally and increasing the U.S. Navy interoperability with a valued, strategic ally."
CEC will be installed on HMAS Hobart and its sister ship HMAS Brisbane in the coming months, to be followed by HMAS Sydney in the near future. Sydney will be the last destroyer of the class and is expected to be delivered to the RAN in March 2020. The Hobart-class acquisition program remains Australia's most expensive weapons program to date, with total acquisition costs likely to exceed $8 billion.