Has Putin Just Killed the Iran-Russia Air Defense Missile Deal?
Vladimir Putin has frozen the transfer of S-300 surface-to-air missile systems to Iran, a Kuwait-based newspaper claims.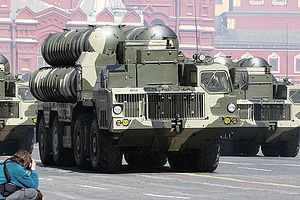 Russian President Vladimir Putin has temporally halted the sale of S-300 surface-to-air missile systems to Tehran after receiving intelligence reports that Iran has supplied Hezbollah with advanced Russian missile systems, the Kuwait-based daily Al-Jarida claims.
The newspaper bases its report on information supplied by a "highly reliable source" in the Kremlin "familiar" with Putin. The source claims that Putin suspended the sale based on information supplied by Israel that Iran has supplied Lebanon-based Islamist militant group Hezbollah with SA-22 (Pantsir-S1) air defense systems.
Russian pilots flying over Lebanon and Syria purportedly confirmed the presence of the short to medium range surface-to-air and anti-aircraft artillery weapon system in Hezbollah-controlled territory in Lebanon. Russian anti-missile radar operators stationed in Syria were also allegedly able to corroborate Israeli claims.
Israel also claims that Iran has transferred Russian-made Yakhont supersonic antis-ship cruise missiles to Hezbollah. Iran had purportedly pledged to Russia that it would not supply Hezbollah with Russian state-of-the-art weaponry in exchange for the S-300. Al-Jarida also claims that Russia has pressured Iran to withdraw its forces from Syria backing Syrian dictator Bashar Assad.
As I reported previously, in June 2010, Moscow cancelled the delivery of the S-300 surface-to-air missile systems and stopped all military-technical cooperation with Tehran due to a United Nations Security Council resolution imposing sanctions — which included a ban on the sale of hi-tech weapons. In return, Iran demanded $4 billion in compensation from Moscow.
As I further explained:
Back in January 2015, both ministers (…) agreed to settle their differences once and for all regarding the sale of five S-300PMU-1/SA-20 Gargoyle SAM systems (40 launchers) to Iran for $800 million. The S-300PMU1 is a long range, Surface-to-Air Missile (SAM) system, "designed to engage aircraft, cruise missiles and theater ballistic missiles in intense clutter and jamming environment," according to deagel.com. Russia has repeatedly declared that the S-300 air defense missile systems are exclusively defensive.
The Russian company Uralvagonzavod, the world's largest main battle tank manufacturer, has recently offered to license-produce the third-generation T-90s main battle tank in Iran. Moscow and Tehran may also be close to signing a contract for the co-production of an undisclosed number of Sukhoi Su-30 multirole fighter aircraft (See: "Confirmed: Iran and Russia to Co-Produce Su-30 Fighter Jet")
In January 2015, I wrote: "Back in the year 2000, Iran was the fourth largest importer of Russian military equipment placing right after China, India, and the United Arab Emirates, buying 6.1 percent of Russia's total arms exports."
"Under the so-called Joint Comprehensive Plan of Action (JCOP), an international agreement on the nuclear program of Iran signed in July 2015, the UN arms embargo will be lifted 5 years after the JCOP adoption day. However, conventional weapons sales can be decided on a case-by-case basis meanwhile," I noted last month.
How much Putin's purported decision to postpone the S-300 sale will affect other aspects of Iran-Russia defense relations remains to be seen. Most of the current discussions over likely future defense deals between the two countries remain highly speculative and should be taken with a grain of salt.