Iran Confirms Delivery of First Russian S-300 Air Defense System
Sources in Moscow and Tehran confirmed that the first batch of S-300 missile systems arrived in Iran.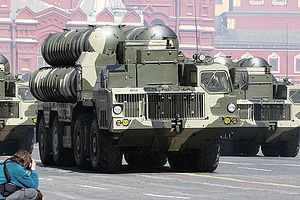 Iran took delivery of the first set of S-300 Surface-to-air missile systems (NATO reporting name SA-10 Grumble), according to Iranian and Russian officials.
"We had already announced that despite several changes in the time of delivery, the deal is on its path of implementation and today I should announce that the first part of this equipment has arrived in Iran and delivery of other parts will continue," Foreign Ministry spokesman Jaberi Ansari said, according to Mehr news agency.
The weapons were purportedly shipped from Russia to Iran via the Caspian Sea, which both countries border.
An unnamed Russian official confirmed the delivery, Interfax news agency reports. "The first batch [of S-300 surface-to-air missile systems] has been delivered to the purchaser," he said adding that all missile systems will be delivered by the end of the 2016.
The controversial Iran-Russia arms deal involves the delivery of of five S-300PMU-1/SA-20 Gargoyle SAM systems (40 launchers) for an estimated $800 million. The S-300 is a long-range surface-to-air missile system, and can engage aircraft, cruise missiles and theater ballistic missiles.
The S-300 SAMs currently being delivered are an upgraded version of the weapons systems initially ordered by Iran in 2010.  In July 2015, Russian Presidential Aide Vladimir Kozhin announced that Russia would update the S-300 SAMs to meet specific Iranian needs without, however, offering technical details.
Russia was forced to cancel the delivery of the weapons in June 2010 due to a United Nations Security Council resolution imposing sanctions — which included a ban on the sale of hi-tech weapons. After the cancellation of the arms deal, Iran demanded $4 billion in compensation from the Russian state. However, the issue was finally resolved last year "through lengthy and complicated negotiations," according to Russian Deputy Prime Minister Dmitry Rogozin.
The new weapons systems will significantly strengthen Iran's s0-called anti-access/area denial capability and could be the first indication of an Iranian rearmament program partially underwritten by Russian military hardware.
As I reported previously (See: "Russia Will Ship S-300 Missile Systems to Iran Within Days"):
 Russia has also offered to license-produce the third-generation T-90s main battle tank in Iran. Both countries are purportedly also close to signing a contract for the co-production of an undisclosed number of Sukhoi Su-30 multirole fighter aircraft in Iran. However, this week, a senior U.S. official said in a testimony in front of the U.S. Senate Foreign Relations Committee that the United States would block any such sale.
Prior to the UN sanctions, Iran had relied heavily on Russian technology and expertise in modernizing its military forces. Up until 2000, Iran was the fourth largest importer of Russian military hardware.