Is China's Football Dream Becoming Reality?
For the first time in 15 years, China is one step from qualifying for the World Cup.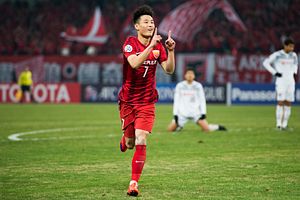 For the first time since 2001, China's men's national football team has made it into the final qualifying round for Asian teams seeking to advance to the World Cup. That puts China tantalizingly close to making its first World Cup since 2002 – the first and only time China made it to football's biggest stage. China went on to lose all three matches in that World Cup, without scoring a goal.
Ironically, if you look at China's rankings with the Fédération Internationale de Football Association (FIFA), the organization responsible for the World Cup, the team seems to have gotten worse – not better – since its high mark in 2002. That year, when the World Cup was jointly hosted by Japan and South Korea, China averaged a global ranking of 63. In the latest rankings, China is down at number 96.
Still, 96th in the world was good enough for China to squeak through into the final round of qualifying for the Asian Football Confederation's four and a half World Cup spots (the fifth placed team from Asia will have to win a playoff against a team from another confederation to secure its World Cup spot). In the most recent stage, each of eight group winners went through to the next round, along with the top four second place teams. China made it through in the latter category, finishing second in its group with five wins, two draws, and one loss.
That result was made possible by an unexpected victory against Qatar, the leading team in China's group. Playing at home, China defeated Qatar 2-0 – a result that was sorely needed after two frustrating draws with the Hong Kong team put China in a difficult position. China's team also caught a lucky break when its competitors for the final qualifying spot – Jordan and North Korea – both lost their final matches. A victory by either would have knocked China out of the running.
For China, football is more than a sport. Like the Olympics, the World Cup has become a way to evaluate China's prestige on the world stage – and, to date, China's men's team has come up woefully short. (The Chinese women's national team has performed much better, making it to the quarterfinals in the 2015, 2007, and 2003 World Cups and all the way to the finals in 1999.) Making the World Cup – and eventually hosting one as well – is not just an athletic goal, but a political one as well. President Xi Jinping, himself a football fan, has taken a personal interest in boosting China's football prowess. He even oversaw work on a comprehensive plan to reform football in China by wiping out corruption and match fixing and making the game a required part of China's school curriculum.
Xi's personal attention to the problem has inspired nation-wide undertakings to foster and train better-quality talent in both China's schools and domestic league. Chinese Super League clubs recently made headlines for a massive spending spree designed to attract foreign talent (thereby raising the quality of China's domestic play). In January and February of this year, Chinese teams shelled out $366 million for player transfers, most of them involving foreign players. The most expensive deal saw Brazilian striker Alex Teixeira head to Jiangsu Suning for a cool  €50 million ($56 million) in transfer fees. As ESPN reported at the time, "With [Teixeira's] salary reportedly hitting €10m for each of the four years of his deal, it is likely that the whole transaction will end up costing the club in excess of €100m."
With all these moves, the long-term prospects for Chinese soccer look bright. But in the short term, it will be an uphill battle for China to clear the final hurdle and make it through to the 2018 World Cup. There are 11 other Asian teams fighting with China for four guaranteed spots in the World Cup: Australia, Iran, Iraq, Japan, Qatar, Saudi Arabia, South Korea, Syria, Thailand, the United Arab Emirates, and Uzbekistan. All but Syria and Thailand are ranked ahead of China in the current standings, with Qatar (ranked 80th in the world) the next closest to China's 96th place ranking.
The 12 teams in the final qualifying round will be divided into two groups; the top two finishers in each group qualify automatically. The two third placed teams will have to compete against each other for a chance to move on; the winner will earn a playoff with a team from another conference for the final World Cup slot. That means China will have to finish above at least three other teams in its group to even have a shot at qualifying.
Ultimately, China's fate – and Xi's football dream — may simply come down to the luck of the draw when the two groups are announced on April 12.