The 'Chinese Dream' and the World Cup
Improving China's national football program has become part of Xi's "Chinese Dream."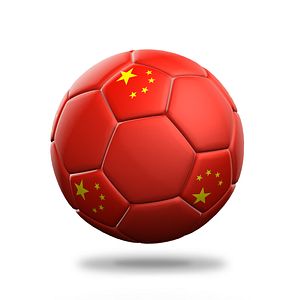 As the 2014 World Cup opens in Brazil, sports pundits everywhere are reminding us that "football is religion" in many countries around the world. In China, football may not be a religion but it comes close — it's frequently cited as an important part of the "Chinese Dream."
International sports and politics are closely related in China. The 2008 Beijing Olympics was pegged as China's "coming out party" to the world. But China wasn't just showcasing its ability to successfully host the world's largest sporting event; China was also determined to win international respect through the success of its athletes. Jeff Ruffolo, author of Inside the Beijing Olympics, explained that China's ultimate goal is not simply to win medals but "to prove to the world that their system is the best system." Sports success is way of proving China's national strength to the world.
While China has enjoyed remarkable success at the Olympics, football has remained its Achilles heel. And to many, China's lack of success on the pitch is a source not just of disappointment but of national shame. Last summer, when China's national team lost 1-5 to Thailand, many netizens bemoaned the "loss of face" and "shame" that the team brought to China. The sorry state of Chinese soccer especially galling to many Chinese as arch-rival Japan has enjoyed far greater football success, having qualified for the World Cup every time since 1998 (China has qualified once, in 2002).
Despite a lack of success, the idea of football as a source of national pride, and even national legitimacy, continues to be encouraged by the Chinese government. Xi Jinping himself is well-known as a football fan, and has publicly expressed his hope that China will join the ranks of elite squads. This is not just the musings of a patriotic football fan, either — football has become incorporated as part of Xi's "Chinese Dream." Accordingly, China's success or failure on the field has turned into a signpost for China's standing on the world stage.
Earlier this year, when the FIFA World Cup trophy was on display in Shanghai, Vice President of the China Football association Lin Xiaohua said that "the soccer dream is a part of the Chinese dream." Yet, unlike rapid economic and military development, achieving this particular dream has so far proved beyond Beijing's grasp. As Global Times noted, China set a goal back in 2004 for its men's national team to be ranked in the top eight in the world. Ten years later, China currently is stuck outside the top 100, and isn't even in the top eight teams in Asia (China is ranked 12th in the Asian Football Confederation).
Despite this, Chinese media are emphasizing hope rather than shame. The theme is not China's failure to reach the 2014 World Cup, but the bright future of the Chinese football dream. "President Xi Jinping's enthusiasm for the sport has given a major boost to soccer fans' confidence and the expectations of Chinese players," a Xinhua article noted. In a way, football in a microcosm for the Chinese Dream: Chinese media emphasize how far there is to go only to inspire awe at the speed at which China reaches those goals. With this twist, perceived "backwardness" is just one step away from increased glory for the Chinese nation.
Yet Xi has set the bar high with his three goals for Chinese soccer: "The Chinese national team will enter the World Cup finals. China will host the World Cup. And [we hope] to win the World Cup championship." Should the Chinese national team continue to struggle, despite Xi's personal encouragement, Chinese fans might not be satisfied with assurances that success will come someday. Tying football success to the "Chinese Dream," and thus to conceptions of China's global aspirations, is a potentially dangerous move should China prove unable to field an elite-level team in the near future.