Kazakhstan Among the Oil Giants
Astana's oversized dependence on oil has put the country's economy at the whims of a merciless global oil market.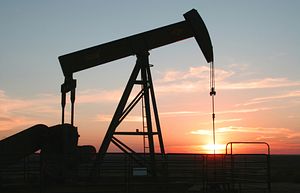 Kazakhstan's economy is the most successful in Central Asia, in no small part because of its massive oil business. Kazakhstan is Central Asia's largest oil producer, but in the grand scheme of the global oil market it's a small player among giants. The oversized dependence of Kazakhstan's economy on oil means it is inextricably linked to forces Astana has little control over.
Numbers tell the story best. Using 2014 data from the U.S. Energy Information Administration (EIA) (because it is the most complete and accessible), Kazakhstan ranks as the 18th largest oil producer, sitting between Algeria and Colombia. The top of the ranking is the United States, Saudi Arabia and Russia. But Kazakhstan's position on that list isn't saying terribly much. While its rank has risen steadily since independence, Kazakhstan still produces a small fraction of what oil is available globally.
In 2014, Kazakhstan produced an average of 1.72 million barrels per day, just 15 percent of Russia's estimated 10.85 million barrels per day. Kazakhstan, like Russia, is not a member of the Organization of Petroleum Exporting Countries (OPEC), the cartel that includes ten of the top 20 oil exporting countries (and 13 of the top 30). Saudi Arabia, which in 2014 produced 11.6 million barrels per day, is the dominant power in OPEC. Despite sanctions, Iran managed to stay in the top five producers between 2003 and 2012. The lifting of sanctions on Iran comes at an incredibly inconvenient time for the rest of OPEC.
As U.S. production surged in the last few years, OPEC kept its own production pace high in the hopes that low prices would cripple shale producers in the U.S. It's an oily game of chicken and the big losers have been smaller producers which nonetheless depend on oil revenue. Kazakhstan feels the effects of low oil prices more acutely because of its dependence, but doesn't have the global weight to do much about it.
In recent weeks the possibility of a deal between Russia and Saudi Arabia to freeze production has been kicked around. One problem, of course, is that both Russia and Saudi Arabia are producing at decade-high rates. In fact, Russia's oil production in 2014–10.85 mbd–is the highest it's been since the Russian Federation came into being. According to EIA data, oil production in the USSR in 1991 rested at 10.3 mbd. Another problem is Iran, which intends to return to previous levels of production now that its trade is not shackled by sanctions. A final issue, is that even if Saudi Arabia and Russia agree to a freeze, the last time Moscow made such a commitment–it cheated.
Nonetheless, it seems that OPEC and Russia are still entertaining the idea of a deal to freeze production. A Baghdad-based newspaper quotes the Iraqi oil minister as saying March 20 is the day major oil producers inside and outside OPEC will meeting in Moscow. The Russians, as reported by Reuters, aren't so concrete. A spokeswoman from the Russian energy ministry said no date had been set. Also unsaid, is who would attend.
On Thursday, Kazakhstan's energy minister, Vladimir Shkolnik, told reporters that if Kazakhstan was invited to the planned meeting between OPEC and non-OPEC oil producers, they would attend. But Astana likely doesn't have a seat at that table. In addition, while headlines focus on Kazakhstan balking at the idea of a production freeze, the real story is that production in Kazakhstan is expected to fall anyway. Per Reuters:
The Kazakh government in its budget in November had targeted oil output of 77 million tonnes in 2016, assuming an average oil price of $40 a barrel, but it lowered the target to 74 million tonnes last month as Brent crude hovered nearer $30.

"If the average price is about $40, the output will be 77 million tonnes," Shkolnik said.

That would still be lower than production last year of 79.5 million tonnes.
This trend may reverse when the Kashagan field is operational again, but it's not clear exactly when that will be. Optimistic sources say late 2016. More sober minds note that Kashagan, one of the most expensive energy projects in the world, started production in 2013 but was quickly crippled by a gas leak and has been undergoing repairs since.