Russian Military Recruitment Ads Reportedly Target Kazakhstan
Russia is reportedly looking toward its Central Asian neighbor Kazakhstan for manpower as the war in Ukraine lurches toward its 18th month.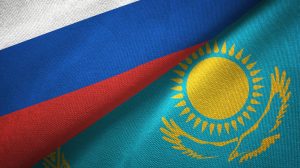 While recruitment of Central Asians more broadly into Russia's war in Ukraine has occurred since the largescale invasion in February 2022, it appears Russian efforts are expanding from targeting migrant workers already in Russia toward more direct outreach.
Last week Reuters reported that ads featuring Russian and Kazakh flags alongside the slogan "shoulder to shoulder" had begun appear in Kazakhstan (with RFE/RL reporting that the same ads also appeared in Armenia):
They promise a one-off payment of 495,000 Russian roubles ($5,300) to those who sign a contract with the Russian military, along with a monthly salary of at least 190,000 rubles ($2,000) and undisclosed extra benefits.

The ads lead to a website that offers potential recruits a chance to join the Russian army in the Sakhalin region in Russia's Far East. The website lists its owner as the Human Capital Development Agency of the Sakhalin region, an organization set up by the local government.
Russian authorities announced a "partial mobilization" and increased support for "volunteers" in September 2022. Soon after, the governments of Kyrgyzstan, Tajikistan, and Uzbekistan all warned (or rather, re-issued earlier warnings) to their citizens that joining foreign military conflicts could yield them legal trouble back home.
And for at least one Kyrgyzstan citizen, it has. In May, a court in Bishkek sentenced Askar Kubanychbek-uulu to 10 years in prison under article 416 of the criminal code, which prohibits the paid participation of Kyrgyz citizens in armed conflicts in other states. In June 2022, Kubanychbek-uulu, who was living in Moscow, joined the armed forces of the so-called Luhansk People's Republic – a section of eastern Ukraine first occupied by, then annexed by, Russia. According to 24.kg's reporting, he arrived in Bryanka, a city in Luhansk, in July 2022 and "was enrolled in military service with a monthly payment of 180,000 rubles. He took part in reconnaissance operations, completed combat training courses, and was engaged in providing mortar installations and ammunition on the front line." Kubanychbek-uulu returned to Moscow in November 2022 and then to Bishkek where he was arrested in January. 
In appealing his sentence in June 2023, Kubanychbek-uulu claimed he only distributed "humanitarian aid" in Luhansk and hadn't served in the military for "mercenary" purposes but in order to obtain Russian citizenship. The court upheld the sentence.
The case is being followed closely, with RFE/RL reporting that in late July Kirill Kabanov, a member of Russia's Presidential Council for the Development of Civil Society and Human Rights, was pushing for Kubanychbek-uulu to be granted Russian citizenship and for the Kyrgyz authorities to release him to Russia. He said on Telegram that Moscow should "use all possible mechanisms of pressure as a response to [what are] clearly unfriendly actions on the part of Kyrgyz authorities."
A spokesperson for the Russian Foreign Ministry replied to a reporter's question earlier this month that the appeal is being considered. 
So far Kubanychbek-uulu is the only Central Asian citizen to be charged with joining the Russian military conflict in Ukraine. How his case proceeds may set a precedent for the region.
Kyrgyz, Tajik, and Uzbek citizens have been at particular risk given the large numbers who migrate each year to Russia in search of work. As I reported earlier this year:
In the first quarter of 2023, 350,000 Tajik citizens migrated to Russia – 100,000 more than in the same period in 2022. More than 630,000 Uzbek citizens did the same, a 72 percent increase on the 366,000 that made the journey in 2022. Nearly 173,000 Kyrgyz citizens made the journey too, among others. 
Kazakhstan is considerably richer than its neighbors. Its GDP in 2021 stood at $197.1 billion, more than double that of Uzbekistan ($69.24 billion), and lightyears ahead of Kyrgyzstan ($8.5 billion) and Tajikistan ($8.7 billion). One result is that there are fewer Kazakh migrant workers in Russia than from elsewhere in the region, to the extent that they are rarely discussed when the general topic of Central Asian migrant labor is raised.
It's not known if the Russian ads in Kazakhstan were successful, but the risk is clearly evident. 
Central Asian governments have attempted to maintain some semblance of neutrality amid the conflict. But the conflict has posed a whole host of difficult questions for Central Asians and regional governments alike, from an increasing grappling with the legacy of Russian imperial and Soviet colonialism to more pragmatic questions of how to manage and shift regional trade networks while a significant economic partner turns itself into a pariah. 
Several Kyrgyz companies were sanctioned recently by the United States for their role in circumventing sanctions on Russia. An RFE/RL investigation that presaged those sanctions also highlighted Kazakh companies that were doing much the same. As the war continues, all sides will grow increasingly desperate and the middle ground on which Central Asia has lingered will in all likelihood shrink.