Kazakhstan's European Trade Problem
Astana's largest trading partner is the Eurozone and it really needs trade to pick up again.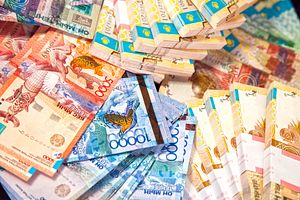 It's no secret that Kazakhstan's economy has suffered in the past year. The global fall in oil prices is the most important factor, but the failure of the Eurasian Economic Union to stimulate trade among members has helped deepen the hole. Persistent tension between Europe and Russia hasn't helped the fledgling EEU. European countries still account for almost half of Kazakhstan's trade turnover, but the volumes have fallen dramatically, according to statistics from the National Bank of Kazakhstan. The longer Russia stands at loggerheads with Europe, the more difficult a position Kazakhstan will find itself in.
Russia, the largest economy in the EEU, has seen its economy dragged down by the oil crisis but also put under pressure by sanctions imposed on by Europe and the United States. This week, Washington decided to extend sanctions that were first imposed in 2014 and the EU will decide in the coming months whether to extend its own raft of sanctions targeting Russia (the EU already decided this week to extend sanctions on 16 of 17 individuals previously sanctioned in relation to the Ukraine crisis).
In response to U.S. President Barack Obama's decision to extend sanctions for another year, Frants Klintsevich, the first deputy on the defense and security committee in the Russian parliament's upper house, said, "They have made it clear to us that any strategic cooperation between the two countries is out of the question." That doesn't bode well for U.S.-Russia relations and we'll know by the summer whether the EU plans to ease up on sanctions or follow the American lead.
Why does this matter for Kazakhstan? Europe is the single most important market for Kazakhstani trade and the bulk of that trade is in oil. But Kazakhstan's oil must transit through Russia to reach European markets. As demonstrated last month by Russia's decision to obstruct trade between Kazakhstan and Ukraine (by mandating that goods from or to Ukraine transiting Russian territory must pass through Belarus first), Russia has levers it has not used on Europe more broadly, yet. Stymying energy trade between Russia and Europe would be as damaging to Moscow as it would be for the capitals of Europe.
Statistics on the first nine months of 2015 are telling — the numbers not only demonstrate how deeply the overall economic malaise has impacted Astana's trade numbers, but they also illustrate Europe's central role. In the first nine months of 2015, 47.3 percent of Kazakhstan's exports were to Eurozone countries; add in the rest of Europe and the percentage rises to 60.1 percent. Commonwealth of Independent States countries accounted for 16.2 percent of Kazakh exports in that same time period. In comparison to the first nine months of 2014, the percentage of Kazakhstan's exports headed to CIS countries rose and the share to Europe fell, through in value both dropped dramatically.
Per the National Bank of Kazakhstan's late February report:
According to the official statistics data, trade turnover with countries of the Eurasian Economic Union decreased during the reporting period by 25.8 percent and amounted to 12.1 billion dollars, while export of goods decreased by 29.3 percent and import of goods decreased by 24.1 percent. 

Trade turnover with countries of the European Monetary Union decreased during the period by 41.5 percent, while export of goods decreased (by 45.8 percent) and import of goods decreased by 14.1 percent. Net exports of goods to the EMU countries amounted to 12.7 billion dollars against 26.3 billion dollars in the base period.
To pull out a few details: Kazakhstan's net exports to Europe in 2015, even after falling 45.8 percent from the previous year, were still greater than total trade turnover between Kazakhstan and the other countries of the EEU. Central Asia is often criticized as one of the least economically integrated regions in the world.
As noted above, the bulk of the fall can be attributed to oil but most commodity prices have fallen. The export of all commodities (except nonferrous metals, like copper) fell between 2014 and 2015. In the first nine months of 2014, the value of all commodities exported by Kazakhstan sat at $62.1 billion; for 2015 that number fell to $35.7 billion. Oil and natural gas represented $42.7 billion in 2014 and just $21.8 billion in 2015.
As much as Kazakhstan has strived–politically if not physically–to diversify its economy and partners, it's still very much reliant on hydrocarbons and Europe. Politically, Astana cannot turn its back on Moscow, but economic improvements are contingent on trade with Europe picking up again.