Making Sense of Pakistan's Intelligence Tip-off to India
India should welcome Pakistani inputs on possible terror attacks without over-interpreting their significance.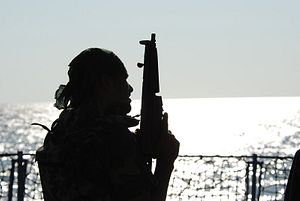 Intelligence inputs from Pakistan to India about a potential terror attack have attracted considerable attention in India's press and generated optimism that the sharing of such information could create goodwill and lead to a gradual normalization of ties between the two countries.  The Indian Express reported that Pakistan's National Security Advisor Lt. Gen. Naseer Janjua alerted his Indian counterpart, Ajit Doval, about a possible "26/11-style fidayeen assault on religious sites and processions in Gujarat" during a Hindu festival.
Days later, Pakistan's interior minister, Chaudhry Nisar Ali Khan, confirmed that his government had indeed shared information with India about the entry of "at least 10 men within Indian territory from Pakistan." In response, India rushed four teams from its special forces National Security Guard to the state of Gujarat to strengthen security cover at key installations and pilgrimage centers in the state. Security was also beefed up in New Delhi's crowded markets and popular temples.
Pakistan's Prime Minister Nawaz Sharif has long been a vocal champion of better ties with India, but has had little by way of demonstrable action to show for it in the three terms that he has served as Pakistan's prime minister. His first term in office coincided with a significant ramping up of the Pakistan-sponsored insurgency in Jammu and Kashmir, while his second term saw him having to contend with the fallout of a war with India in Kargil.
A popular view exists in Pakistan that while the country's civilian leaders are keen to improve relations with India, Pakistan's powerful army continues to view India as an existential threat and exercises its veto to put paid to attempts at rapprochement.
But if the recent inputs do turn out to be credible, it could suggest that there are signs of a nascent consensus in Pakistan between the civilian administration and the army on constructive engagement with India. Indeed, intelligence sharing between India and Pakistan is not without precedent. In 2004, India's intelligence agencies reportedly tipped off their Pakistani counterparts about a potential attack on then President Pervez Musharraf by jihadi groups in Pakistan, during a rare period of thaw in bilateral ties.
However, there is justifiable cause for skepticism regarding the notion that India-Pakistan ties are headed for a turnaround or that Pakistan is finally shedding its historical reliance on terrorist groups to further its national security objectives.
Indeed, the circumstances surrounding the intelligence tip-off are curious. If Pakistan's intelligence agencies did indeed have prior knowledge of the movement of these 10 individuals, it is not clear why no action was taken by Pakistani law enforcement officials while these individuals were still in Pakistani territory. Further, if the objective of the intelligence sharing was to "preempt a potential crisis in bilateral relations, even war," the inputs doesn't appear to have been particularly useful or actionable.
A source speaking to the Indian Express claimed that the warning did not contain "information that could lead the police to perpetrators…" Indeed, subsequent news reports appeared to cast doubts over whether the intended target of the perpetrators was the Indian state of Gujarat or the village of Gujrat near Pathankot, in the state of Punjab.
A third aspect pertains to the report that these ten individuals were "fidayeen from Lashkar-e-Taiba [LeT] and Jaish-e-Muhammed [JeM] cadres." It is not clear here whether the implication is that members of the two terrorist groups were operating in the same unit. Such a suggestion would stretch credulity because LeT and JeM hold divergent ideologies and objectives and aren't particularly big fans of each other. Indeed, there is no known instance where the two groups have operated together in the recent past, although members of LeT participated in the Afghanistan jihad in the 1990s alongside members of what would later become JeM.
But more broadly, optimism in this instance appears misplaced when viewed in the context of Pakistan's historic nurturing and support of militant groups to further national security objectives. Both Lashkar-e-Taiba and Jaish-e-Mohammed continue to operate in Pakistan with the support of Pakistan's security establishment, albeit to differing degrees.
Despite recent attestations by the Pakistanis that they no longer distinguish between "good jihadis" and "bad jihadis," no evidence exists to suggest that Pakistan no longer supports anti-India groups operating in its territory. It would therefore take a significant leap of faith to believe that Pakistan's security establishment is now willing to rush to the aid of its adversary by turning on its own proxies.
In the aftermath of the January 2016 attacks at the Pathankot Air Base in India, much was made of Pakistan's reaction, which many believed signaled its commitment to bring those responsible to justice. Authorities allegedly sealed the offices of Jaish-e-Mohammed, took down their website and newspaper, and took JeM leader Maulana Masood Azhar into "preventive custody."
While Masood Azhar is reportedly in custody today, the scholar Ayesha Siddiqa questions the claim that JeM's Usman-o-Ali headquarters in Bahawalpur has been shut down. And at the time of this writing, JeM's website and newspaper are back online. We are thus back to square one on the Pathankot litmus test.
The Indian government must, of course, uphold its duty to its citizens and follow through on any intelligence alerts on potential threats to national security. To the extent that inputs from Pakistan can help mitigate such threats, they are welcome. But to suggest that the recent intelligence tip-off indicates a change in Pakistan's mindset or that it is a harbinger of peace between the two countries would be a significant stretch.