Philippines Denies Role in Trilateral Naval Drills Near South China Sea
Manila clarifies its stance amid news of upcoming US-Japan-India trilateral exercises.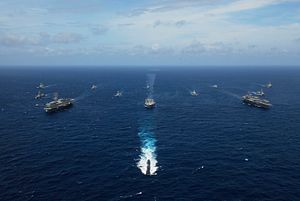 The Philippines yesterday denied that it had anything to do with planned joint naval exercises between the United States, Japan and India near the South China Sea amid China's growing assertiveness in the disputed waters.
Last week, Admiral Harry B. Harris, the head of the U.S. Pacific Command, told a security conference in New Delhi that the United States, India and Japan would hold naval exercises in the northern Philippine Sea. In his remarks, Harris had added some thinly veiled criticism of Beijing's behavior in the South China Sea, referring to "some countries" seeking to "bully smaller neighbors through intimidation and coercion."
The Philippines had initially welcomed the exercises, with presidential spokesperson Edwin Lacierda saying last Friday that these activities emphasize the importance of preserving freedom of navigation as well as regional stability and prosperity in the South China Sea, which Manila calls the West Philippine Sea.
The Philippines is one of four Southeast Asian states with claims in the South China Sea disputes, with the others being Brunei, Malaysia and Vietnam. Following a series of Chinese provocations, including the seizure of Scarborough Shoal as well as the continued harassment of Philippine vessels and aircraft, Manila filed a case against Beijing with the Permanent Court of Arbitration (PCA) at the Hague, and a decision is expected in May (See: "Does the Philippines' South China Sea Case Against China Matter?").
However, on Monday, presidential communications secretary Herminio Coloma Jr. clarified that the exercises would not involve the Philippines and were "speculative" on its impact on the South China Sea.
"The reported joint naval exercises near the South China Sea, however, does not involve the Philippines in any way. It will, thus, be speculative on its possible impact to the concerns regarding the South China Sea," he said in an official statement.
While Coloma is right that the Philippines is not directly involved in the upcoming trilateral exercises between the United States, Japan and India, Manila has nonetheless been stepping up the intensity of its own security cooperation with several major Asia-Pacific powers including Washington, a treaty ally, and Tokyo, a strategic partner, in the face of China's actions.
In August last year, the Japan Maritime Self Defense Forces (MSDF) participated in a humanitarian drill with the United States and the Philippines off of Subic Bay – a former U.S. base – in a key development. The Philippine Supreme Court also recently upheld the Enhanced Defense Cooperation Agreement (EDCA), a pact which Manila inked with Washington back in April 2014 that would, among other things, give U.S. troops and equipment wide access to Philippine military bases on a rational basis (See: "Philippine Court Upholds US Defense Pact").
As for Japan, Tokyo and Manila held their first drills last year, and a Japanese submarine is expected to visit Subic Bay in April for the first time in 15 years (See: "Japanese Submarine to Visit the Philippines Amid South China Sea Tensions"). Bilateral security cooperation is expected to be enhanced later this year with the visit of Japan's defense minister Gen Nakatani (See: "Japan's Defense Minister to Visit Philippines to Boost Security Ties").
In his statement, Coloma also added that the Philippines' primary concern was to deter aggressive actions by others rather than raising tensions on its own.
"The Philippines believes that regional stability is achieved when the rule of law is upheld. Hence, we have joined cause with ASEAN (Association of Southeast Asian Nations) in advocating the adoption of a legally binding Code of Conduct on the South China Sea," Coloma stressed.
Though the Philippines continues to push for a stronger regional stance within ASEAN as Coloma mentioned, the grouping's united position on the disputes has often been far weaker than what Manila would prefer, the product of both the nature of the organization (which operates on the basis of consensus) as well as divisions within ASEAN on the South China Sea issue (See: "Does ASEAN Have a South China Sea Position?"). Progress has also been slow on a binding code of conduct, largely due to foot-dragging on Beijing's part.
That said, as I've been noting, some recent ASEAN statements have been relatively stronger compared to the past (See: "ASEAN 'Seriously Concerned' By China's South China Sea Behavior"). And despite initial criticism, the language in the joint statement from a recent special U.S.-ASEAN summit in Sunnylands was actually quite strong, containing not just boilerplate references to general principles, with both a direct reference to non-militarization as well as an indirect one on the Philippines' ongoing case against China (See: "A US-ASEAN South China Sea Failure at Sunnylands?").