US, Japan, and India Kick off 2016 Malabar Exercise
Countries begin naval drills that will last until June 17.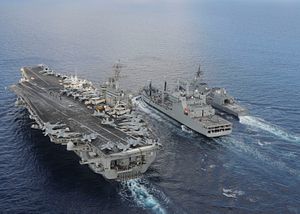 On June 9, the United States, India, and Japan kicked off the annual exercise Malabar 2016.
The Malabar exercises, which initially began as a bilateral naval exercise between the United States and India back in 1992, have been the subject of interest over the past few years because of their potential for expansion. Last year, Japan participated together with Washington and New Delhi in October as part of a longstanding effort to get Tokyo involved as a permanent member (it had previously joined in 2007, 2009 and 2014 as well). Australia's inclusion has also been mooted (See: "US Official Calls for Permanent Expansion of Malabar Exercises With India").
Malabar 2016 will include both ashore and at-sea phases. The at-sea phase in Sasebo includes exchanges on various topics including carrier strike group operations, maritime patrol and reconnaissance operations, surface and anti-submarine warfare, helicopter operations, and visit, board, search and seizure (VBSS) operations. It will last until Monday.
The at-sea phase of the exercise will then commence in the Philippine Sea, focusing on advancing coordination and joint capacity to undertake tactical operations. According to a statement by the U.S. Navy, events planned will focus on areas such as submarine familiarization, high-value unit defense, air defense, anti-submarine warfare, and search and rescue.
U.S. participating assets for Malabar 2016 include Nimitz-class aircraft carrier USS John C. Stennis (CVN 74), guided-missile cruiser USS Mobile Bay (CG 53) and guided-missile destroyers USS Stockdale (DDG 106), USS William P. Lawrence (DDG 110) and USS Chung-Hoon (DDG 93); a P-8A Poseidon aircraft; and a Los Angeles-class fast attack submarine.
The Japanese Maritime Self Defense Force (JMSDF) will be represented by the JS Hyuga helicopter carrier, with SH 60 K integral helicopters and long-range maritime patrol aircraft, along with other assets for particular components of Malabar 2016. On the Indian side, ships participating are INS Sahyadri and INS Satpura, INS Shakti, and INS Kirch. The vessels have reportedly embarked one Sea King 42B ASW helicopter and two Chetak utility helicopters.
The Special Forces of the three navies will also interact during the exercise.
Ahead of the exercise, the defense establishments of all three countries highlighted its importance in facilitating interoperability. The U.S. Navy statement stressed that each iteration of the exercise "helps to advance the level of understanding between the navies Sailors, and is a continuing process over time."
The Indian defense ministry said the exercise represented "another significant step" in strengthening mutual confidence, interoperability, and the sharing of best practices between the Indian, Japanese, and U.S. Navies.
"The exercise will support maritime security in the Indo-Pacific region, and benefit the global maritime community," it said.