Southeast Asia's 'Proxy' Presidents
Myanmar isn't the first case where a Southeast Asian country has recently been led by an alleged 'proxy.'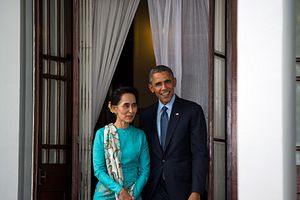 Myanmar's Htin Kyaw has received praise for being the country's first civilian president in more than half a century. But the media has also labeled him a '"proxy" and even "puppet" president because his position was granted through the support of National League for Democracy (NLD) party leader Aung San Suu Kyi.
Interestingly, it's not the first time that a head of state in Southeast Asia has been accused of leading by proxy in the past five years. In 2014, Indonesian president Joko Widodo, popularly known as Jokowi, was accused of being a proxy for of former president Megawati Soekarnoputri. In 2011, Thai prime minister Yingluck Shinawatra was called a "clone" by her own brother, ex-premier Thaksin Shinawatra.
When Htin Kyaw learned about his appointment, he called it a "victory for the people, a victory for Daw Aung San Suu Kyi." Indeed, Suu Kyi was the real winner since she had been the icon of the struggle to restore democracy in Myanmar for decades. Last November, her party secured a landslide victory in the polls.
Unfortunately, Suu Kyi is constitutionally barred from becoming president because her children are British citizens. Though there were efforts to reform the military-drafted constitution, they did not eventually succeed. Despite this debacle, some members of the NLD insisted that the Nobel Laureate will be the 'The Lady in charge', and Suu Kyi herself said she will rule from "above the president."
Suu Kyi's power in the new government was affirmed when her friend Htin Kyaw was elected president by the parliament.
It is not yet clear how Suu Kyi and Htin Kyaw will govern the country. But some are already urging the new president to assert greater authority in the new government.
"If he just follows what she said, he won't get respect from the people," said U Pe Than, a lower house MP from the Arakan National Party.
U Khin Zaw Win, a political commentator and director of the Tampadipa Institute, cautioned Suu Kyi to minimize her "string-pulling" in the government.
"If she overdoes her string-pulling role, Myanmar will not only become a laughing stock but the entire office of the presidency will become riddled with inefficiency and security risks."
But Aung Moe Zaw, Chairman of the Democratic Party for a New Society, rejects the "puppet" label for Htin Kyaw.
"It's too much to label U Htin Kyaw a puppet president, considering his academic qualifications, background, work history and dedication to democracy. Daw Aung San Suu Kyi will likely only take on the role of giving advice, negotiating, and cooperating," he says.
Perhaps Htin Kyaw can learn from the experience of Jokowi. Despite being a popular figure, Jokowi's electoral victory was boosted by the support of the Indonesian Democratic Party of Struggle (PDI-P) headed by Megawati. One of the issues raised by Jokowi's political rivals during the campaign period was his subservient relationship to Megawati; even after assuming the office of president, critics continued to call him a puppet of Megawati. In 2015, Jokowi was publicly humiliated by Megawati in a national party assembly. Though Jokowi's legacy as president is far from determined, the role of Megawati in his government continues to be a major issue.
Another famous 'proxy' in the region is Yingluck, who was Thailand's leader from 2011 until a coup removed her from power in 2014. Her elder brother Thaksin was also deposed by a coup in 2006 but continued to remain popular among voters. Despite her lack of experience in government, Yingluck was persuaded by her brother to run in the 2011 elections. During the campaign, Thaksin boasted that Yingluck would be his "political clone" in government.
During her term, Yingluck struggled to fend off criticisms that she was a puppet of her brother.
"Some people may say I am a puppet. But those who work with me know I am not. Even though I don't have much experience, I have teams of knowledgeable people," said Yingluck in a Bangkok Post interview.
She even clarified her role as a 'clone.' "As a clone, I understand and adopt his ideas of running business and management. But I will make decisions myself," she said.
To be sure, there are some key differences in these cases. Htin Kyaw has been called a 'proxy' for Suu Kyi, a beloved democracy advocate, while Jokowi and Yingluck were labeled 'proxies' for Megawati and Thaksin, who were both deeply divisive figures who were also accused of corruption.
Irrespective of the similarities and differences among these cases, Htin Kyaw's role – with help from Suu Kyi – is crucial in sustaining Myanmar's transition to modern democracy. As president, he can make decisive steps to remove or weaken the influence of the military in the bureaucracy. This is a difficult political objective. But the 'proxy' president can benefit from Suu Kyi's leadership credibility to mobilize the support of various personalities and institutions in Myanmar's society.