WeChat: Frenemy of Chinese Activists?
For Chinese activists and dissidents, WeChat has become the platform of choice — despite its serious limitations.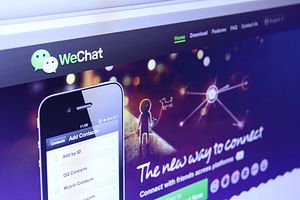 WeChat is a social media platform that boasts more than 650 million active monthly users, most of them Chinese. It played a crucial role in the Chinese American community last month when protests across the country were mobilized on WeChat to demand justice for NYPD officer Peter Liang. However, the idea of WeChat activism on this scale is likely foreign to many ordinary Chinese people, who have come to associate the platform with meaningless "chicken soup" articles, scientifically questionable secrets to longevity, and general political apathy. But the generally jovial atmosphere on the social media platform belies the stark reality of China's heavily restricted sphere of public discourse. In fact, the past year has seen what some call the most severe crackdown on Chinese activists since 1989. For Chinese activists and dissidents, WeChat has become much more than a social media app.
Before WeChat, there was Weibo, commonly referred to as the Chinese version of Twitter. Weibo has been credited with provoking public action over the Wenzhou train collision and the Beijing downpour incidents. Typically, the most popular Weibo personalities would post about an incident, leading to a uniquely Chinese public congregation — weiguan, the flocking of ordinary people to the site of the incident in support of the unjustly persecuted. However, this form of online and offline mass movement has slowly disappeared as increasingly more people moved onto the more intimate WeChat platform.
The nature of activism and dissent implies the dissemination of information inimical to mainstream authority, but the closed nature of WeChat means that not only is the platform easy to monitor, it is also less effective at spreading information. Nevertheless, these limitations do not deter activists from posting items about Tiananmen, brainwashing via traditional media, or the plight of China's silenced underclass. According to Wu Qiang, a former lecturer of political science at Tsinghua University, these types of reactive posts were exactly what the security bureau used as evidence when hundreds of rights lawyers were caught and questioned last July.
Is the government watching everything on WeChat? According to a former Southern Weekly journalist and founder of an official WeChat account, the government uses natural language processing and machine learning technology to sift through keywords in WeChat groups and posts. A lot of WeChat accounts are also connected with personal bank accounts, making it easier to track a user in real life. One student activist, a fierce advocate for the release of the five feminists arrested last year, had her articles reported and deleted from WeChat and her family approached by a concerned acquaintance to warn her. She now constantly worries about whether her account is being monitored and has resorted to posting photos of herself to appear "normal." For her, the suspicion of being watched is enough to remain relatively quiet. She is only one among many who claimed their articles were deleted, or that domestic friends couldn't see their posts.
Writer Ye Du echoed the frustration of having his articles deleted, but said he won't give up the hope of "a brighter, freer future." His Weibo account has been deleted 14 times, with significant attrition of followers each time he registers for a new account. The situation remains practically the same with his WeChat account — his articles were deleted in a matter of hours after they were posted, but he is still fighting the battle of lag time to have them read and shared.
If this all sounds vaguely Orwellian, it is. According to activist Wen Yunchao, "the unsearchable nature of WeChat posts means that Chinese people are collectively burying their memories — there is even no need for a big brother."
Even the platform itself is not conducive to the free dissemination of information. Until recently, users were not able to copy and paste something with a single hand: the paste button was located at the opposite corner of the screen. If a user is not WeChat friends with someone else, she is not able to copy any of their posts. Before the current version of WeChat, if the location service was turned off, users would not even be able to open the app, much less post anything. But after vociferous protests to Google, this changed in the current version. Attempts to reach WeChat for comments have not been successful.
Besides these painfully intentional technological tweaks –all of which have enclosure as their aim — the platform also favors smaller groups. A famous activist or public intellectual who has millions of followers on Weibo may only have upwards of 5,000 WeChat friends (but it's rare for anyone to have that many). Users also have to know the exact account name of a person to add him as a friend. On the other hand, the illusion of safety is easier to sustain with smaller groups.
Chat groups are another feature of WeChat. Upwards of 500 people can chat in the same group and most people are in dozens of groups. But these online virtual communities rarely move offline and pose only a minimal threat to the authorities, even if hundreds of thousands of dissenting "nodes" could potentially connect millions of people on the platform.
If the voice of the authorities has reigned supreme in traditional media, WeChat is hardly the exception to the rule. According to the website newrank.cn, which ranks the popularity of official accounts as well as most shared articles, the top three official accounts belong to People's Daily, CCTV News, and CCTV Financial News, all governmental news outlets. China Daily in particular has around 1 million views and 30,000 likes daily. Winning the numbers game seems far from likely for the dissidents.
After CCTV published a WeChat post praising the positive energy of the Chinese New Year Gala, a dissident turned the "report and delete" strategy on its head, requesting that the article be reported under the category of "commonsensical rumor." But the article is still there, with more than 20,000 views.
Qi Xie is a visiting student at Columbia School of Journalism.