The WeChat Phenomenon: Social Media with Chinese Characteristics
WeChat has become an inescapable part of life in China, but its popularity carries risks.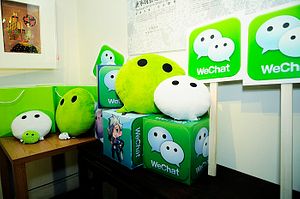 Any recent visitor to China has probably realized that there is one tool increasingly hard to live without: WeChat, or Weixin (微信). With the use of a Virtual Proxy Network (VPN), reading The New York Times, scrolling through Twitter, or staying in touch with friends via Facebook has always been a relatively simple process for the foreign visitor or expatriate in China. But unlike WeChat, these websites have arguably never changed the way we live. Our access to information and social circles has become more convenient, perhaps, but none alone have been integrated into daily life with the extent of WeChat. The prevalence of WeChat expedites and simplifies the decisions of daily life, but does so at the cost of increased vulnerabilities for users, the parent company, Tencent, and the entire Chinese nation.
The speed at which WeChat has become ubiquitous among the Chinese populace is mind-blowing. According to data published in the Chinese-language version of Bloomberg Businessweek, more than 900 million people use WeChat – a number which significantly surpasses the estimated 731 million total Chinese internet users. To put these numbers into perspective, the number of WeChat users out measures the population of the European Union (at 510 million), but falls shy of the 972 million people living in the Americas. What began as a platform for chatting not too dissimilar from WhatsApp, Line, Signal, and Facebook Messenger has since transformed into an essential – and, indeed, international – tool. WeChat is no longer just a basic chatting app, but includes all the everyday essentials in the interface of a single app. By linking a WeChat account to a bank card, users can order taxis, buy airfare, train, and movie tickets, book hotels, pay utility bills, transfer money to other users (even in the form of a lucky red envelope), top-up cell phone accounts, and manage personal finances. WeChat also offers a searchable news feed-like interface, called Moments, for tracking updates of individuals and organizations, and, much like Facebook, users can also subscribe to specific accounts for updates.
WeChat's revolutionary features have literally changed how Chinese live, allowing users to leave their wallets at home. Over 600 million WeChat Pay accounts are active, with restaurants, clothing stores, street food vendors, and even homeless beggars turning to WeChat QR codes to replace cash and bank cards. Handheld machines once used for swiping cards now come equipped with a barcode and QR code scanner; at restaurants, tables and menus increasingly feature a QR code for adding dishes, calling the wait staff, or paying the bill. For the user, even smart watches can display the WeChat personal QR code, allowing payments to happen from the simple flick of a wrist. Digital payment by WeChat has become far more pervasive than other digital currencies (such as bitcoin), causing a shift in financial behaviors as Chinese surge from a cash and bank card society to a dependence upon personalized barcodes.
Even as digital payments have proven transformative within China, such trends also have growing implications for the rest of the world, particularly as both WeChat and AliPay seek to increase their global presence. Analysts at the McKinsey Global Institute have suggested that the transition from cash and card to digital payments will increase GDP in developing economies by 6 percent before 2025, adding $3.7 trillion and approximately 95 million jobs to the global economy. Within Chinese borders alone, digital payments via WeChat and AliPay enabled nearly $3 trillion in digital payments in 2016, a 20-fold increase over the previous four years. Where Chinese banks have often proven slow in extending their modern reach, both Tencent and Alibaba have stepped in with mobile technologies capable of providing financial services that meet the needs of the Chinese user. Both apps have supported further social development by, for instance, creating online markets for agricultural goods, enabling service providers to engage with their users, and raising funds to support humanitarian assistance programs such as drought relief in South Africa or earthquake recovery in Sichuan province.
Despite benefits at both the national and international levels, the mechanisms of access to and control of WeChat merit closer scrutiny. To operate in China, parent company Tencent must cede access to information exchanged through WeChat to the Ministry of State Security and/or Public Security Bureau. Monitoring programs for accounts linked to Chinese mobile phone numbers filter keywords, block messages, and prevent access to websites on sensitive issues such as Falun Gong or Tiananmen from within WeChat. While Facebook is just beginning to use artificial intelligence to flag inappropriate content, WeChat has already cracked down on fake news with a mini-app that reports on misinformation and allows savvy users to aid in debunking rumors elsewhere on the internet. Taking such measures in sum, WeChat is thus becoming an extension of state-led efforts to maintain stability and control. WeChat users are, knowingly or otherwise, agreeing to play a role in this state-led national security program from the moment an account is created and the first chat sent. As WeChat opens offices in Europe and the United States, overseas users may not be accountable to the same rules of censorship, but will nonetheless be placing their personal data in a system that the Chinese national security apparatus could choose to access or use at any time.
Tencent's operations within China are predicated on its willingness and ability to share data with the central government – a reality which creates cybersecurity risks to the individual WeChat user. WeChat users could fall victim to scanning malware-infected QR codes, exposing their personal information and banking details to a cybercriminal. At the macro-level, a cyberattack on Tencent could pull information of every WeChat account in a manner not too dissimilar from the 2015 cyber incursions targeting the personal data of U.S. federal employees held by the Office of Personnel Management (OPM). If Tencent were to lose control over WeChat – to lose its eyes and ears on the 900 million users – Chinese users would gain freedom of speech and action. Or, should a hostile entity gain control of WeChat, it could use the app just as Tencent has done to manage the spread of news or knowledge. Information that had previously been prevented from entering the Chinese media sphere, or manipulated from within the Chinese system, would be unimpeded and accessible to all.
In flocking to WeChat over other competitor apps, Chinese users have made clear a preference for the awesome. An all-in-one app for daily life is far preferred to an assortment of apps with disparate functions. Accompanying WeChat's rise has been the growth in digital payments – a feature that may make less sense or be less appealing in countries where mobile payment infrastructure is still under development. But the prevalence of WeChat does not come without its clear caveats. Information available to and between Chinese WeChat users or accounts is limited to what is acceptable in the eyes the Chinese government; anything deemed politically pernicious will be prevented or removed from the network. Even though filtering or censorship may be of less concern to a WeChat user registered elsewhere in the word, personal data nonetheless remains firmly in Tencent's hands and available for Chinese use. While the advent of WeChat has streamlined daily life within and beyond Chinese borders, such conveniences are likely to remain rooted in the principle of state control so long as the Tencent success story continues.
Lauren Dickey is a Ph.D. candidate in the Department of War Studies at King's College London.