What US Intelligence Thinks About China's Militarization of the South China Sea
In a letter, the head of the U.S. intelligence community offers insights into China's activities in the South China Sea.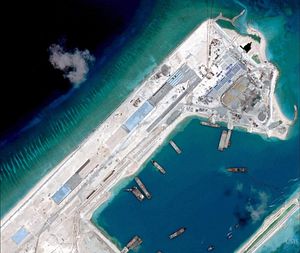 An unclassified February 2016 letter from the Director of National Intelligence James Clapper to the chairman of the U.S. Senate Committee on Armed Services, Senator John McCain, offers a broad assessment of China's land reclamation activities and military capabilities in the South China Sea.
The letter, first published by USNI News, notes that  by the end of 2016 or early 2017 China will "have significant capacity to quickly project substantial offensive military power to the region." It also states that China will continue to pursue construction and infrastructure developments on the islands it occupies in the South China Sea.
"China has established the necessary infrastructure to project military capabilities in the South China Sea beyond that which is required for point defense of its outposts," the letter reads."These capabilities could include the deployment of modern fighter aircraft, surface-to-air missiles (SAMS), and coastal defense cruise missiles, as well as increased presence of People's Liberation Army Navy (PLAN) surface combatants and China Coast Guard (CCG) large patrol ships."
The letter assesses that the airfield on Fiery Cross Reef in the Spratly Islands is already operational and can accommodate all types of Chinese military aircraft. China has also installed military radars in the Spratly Islands, although there is no evidence of the deployment of SAMS to any of China's Spratly outposts. "However, China's mobile SAMS are field-deployable and do not require fixed, prepared sites," according to the letter.
The U.S. intelligence community has not been able to detect the deployment of significant military capabilities to the Spratly Islands, although China has put the necessary infrastructure in place to accommodate high-end military assets in the future, including modern fighter aircraft, Clapper states.
The letter also addresses Beijing's claims that it has no intention militarizing the South China Sea:
China's continued construction activity and press reporting indicate that Beijing may view the establishment of "defensive" capabilities similar to what some other claimants have installed as consistent with not "militarizing" the dispute.
On the question whether China will continue to pursue its land reclamation activities in the South China Sea or East China Sea the letter notes:
While we have no evidence that China has plans for any significant additional land reclamation at its Spratly Islands claims, there is sufficient reef area at Fiery Cross, Mischief, and Subi Reefs to reclaim more than 1,000 additional acres. We further assess that the underwater features at the four smaller reefs would support additional land reclamation. We do not assess that China will conduct reclamation efforts in the East China Sea.
China recently responded with fierce criticism after the U.S. Navy dispatched a carrier strike group to the South China Sea earlier in the month (See: "US Carrier Strike Group Arrives in South China Sea to Deter China"). "China cannot be labeled as the most militaristic. This label is more suited to other countries," said China's Foreign Minister Wang Li, according to the Associated Press. "The South China Sea has been subject to colonial invasion and illegal occupation and now some people are trying to stir up waves, while some others are showing off forces."