Are Pakistan's Nuclear Assets Under Threat?
Pakistan is at risk from nuclear terrorism — but not in the way you think.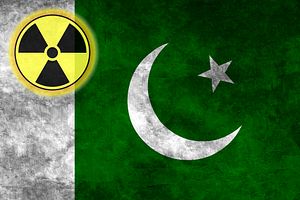 The fourth and final Nuclear Security Summit, held in Washington D.C. on March 31- April 1 2016, once again reiterated the apocalyptic threat of nuclear terrorism. Having over 1,000 atomic facilities across 50 odd countries, all having different standards of security, is bound to raise alarm bells in an age where terrorist organizations have expressed their intention of using the "absolute weapon." The Islamic State in Iraq and Syria (ISIS) even asserted in the May 2015 issue of its propaganda magazine Dabiq that it can buy a nuclear bomb through links to corrupt officials in Pakistan. While there is no evidence of these alleged links, such statements are part of the group's psychological war of spreading fear. They also accentuate the Islamic State's interest in acquiring the bomb.
With al-Baghdadi's group losing ground in both Syria and Iraq, ISIS is becoming more and more desperate to carry out spectacular attacks and reaffirm its strength. Already numerous reports have claimed that the Islamic State has enough radioactive material to make a dirty bomb and use it in Europe. The recent incident of a Belgian nuclear plant worker shot dead and his security pass stolen, alongside reports of two Belgian nuclear plant workers joining ISIS, signify the colossal threat confronting European states.
At the same time, some experts, journalists, and government officials have insinuated that Pakistan's nuclear stockpile, especially its tactical weapons developed in response to India's "Cold Start" doctrine, could be stolen by terrorists, including ISIS. President Barack Obama also mentioned in his speech at the Summit that "small, tactical nuclear weapons … could be at greater risk of theft."
Do terrorist pose a threat to Pakistan's nuclear assets? The answer is both yes and no.
Security of Pakistan's Nuclear Assets
More than once, Pakistan has come under the limelight for not ensuring the security of its nuclear assets. For instance, in January 2001, Pakistani nuclear scientists with extremist sympathies created a what was supposedly a humanitarian nongovernmental organization, Ummah Tameer-e-Nau (UTN). Bashiruddin Mahmood, the former head of Pakistan's Khushab plutonium reactor, was its chairman. In November 2001, at the request of the United States, Pakistan's intelligence services arrested a number of UTN associates and members, including Mahmood. Mahmood later confessed that he met with Osama bin Laden and they discussed the possibility of developing a nuclear bomb.
Similarly, the discovery of the infamous AQ Khan network in 2004 almost jeopardized Pakistan's entire nuclear program. The father of the country's nuclear program, Abdul Qadeer Khan, was found proliferating nuclear technology to other countries, including Libya, North Korea, and Iran. While members of al-Qaeda also tried to contact Khan's associates for assistance with their weapons program, the AQ Khan network reportedly rejected them.
The aforementioned events, together with the General Headquarters attack in 2009 by Tehreek-i-Taliban (TTP), underscore that Pakistan's nuclear security might not be impregnable.
However, time and again Pakistan has expressed confidence in the security arrangements of its nuclear weapons. Even at the Nuclear Security Summit 2016, Pakistan reiterated that its nuclear assets are secure, and of a modest level, in accordance with the country's doctrine of minimum deterrence. While the entire program is engulfed in secrecy, reports have ascertained that Pakistan is doing enough to prevent its weapons being used by rogue elements, including terrorists.
For instance, according to Dr. Samar Mubarakmand, who has been closely involved with the country's nuclear program, Pakistan's nuclear weapons are stored in "three to four different parts at three to four different locations." Therefore, they are stockpiled in component form, which means if the weapon is not about to be launched then it is not in an assembled form.
With the warheads disassembled, they cannot be used by terrorists. Similarly, Islamabad has improved the reliability of its nuclear personnel by making security clearance procedures more stringent, decreasing the likelihood of an insider threat. However, Islamabad recognizes more can be done to control its nuclear expertise. The Nuclear Security Summit has raised awareness and the sense of urgency of increasing nuclear security among all nuclear states. Pakistan, being part of the NSS, has also pledged to take the necessary steps.
ISIS in particular does not have a profound presence in Pakistan and exists only in the form of small, independent cells. It's extremely doubtful it can steal Pakistan's nuclear material. However, a threat does emanate from local militant groups who can exploit the already unstable security environment in South Asia. India's Cold Start doctrine and Pakistan's acquisition of battlefield nukes are a cause for concern, and can be exploited by terrorists.
Exploiting Cold Start Doctrine and Tactical Nuclear Weapons
The Cold Start doctrine was developed after the 2001 terrorist attacks on the Indian Parliament. India claimed that the attacks were perpetrated by Pakistan-based militant groups, Lashkar-e-Taiba and Jaish-e-Mohammad, who were in cahoots with some institutions of Pakistan. In response, the Indian state initiated the largest military build-up since 1971. However, it took India three weeks to get to the international border. By that time Pakistan was able to counter-mobilize, which allowed for the United States to intervene and forestall the conflict from precipitating. Then Pakistani President Pervez Musharraf also denounced terrorism, and promised a crackdown. This reduced India's political justification for a military action.
Unsatisfied with this slow response, India developed the Cold Start doctrine. The said doctrine involves offensive operations, allowing India's conventional forces to perform holding attacks in order to prevent a nuclear response from Pakistan. In reply to this, Pakistan developed tactical nuclear weapons to deter any military action from India.
This situation should raise concern. If terrorist attack is plotted against India from Pakistani soil and India operationalizes its doctrine, presumably, in reaction, Pakistan will deploy its tactical nuclear weapons. India too then is likely to use its conventional nuclear weapons, inviting a full-blown nuclear war between the two neighboring states.
As such, the combination of tactical nuclear weapons and the Cold Start doctrine provides an opportunity for terrorist elements to initiate a nuclear war. Both India and Pakistan need to work out a plan whereby India gives up its Cold Start doctrine in the event of a militant attack, and in response, Pakistan abandons its tactical nuclear weapons. Otherwise, there will always be room for militants to ensure a nuclear attack by conducting traditional acts of terror. If a terrorist can compel a nuclear war between two nations, how is that different from nuclear terrorism?
Shahzeb Ali Rathore is a Research Analyst at the International Center for Political Violence and Terrorism Research (ICPVTR) of the S. Rajaratnam School of International Studies (RSIS), Singapore.