History Repeats in South Korea's Crumbling Opposition
At the center of controversy is fallen rebel Ahn Cheol-soo.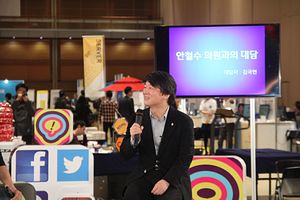 Four years ago, a backpack-toting software engineer strutted on to South Korea's presidential campaign stage with the vow to reform the two-party system and heal the bipartisan split with a new shade of politics. The self-made entrepreneur, antivirus creator, and former school dean Ahn Cheol-soo attracted swarms of young voters who pinned hopes on his rhetoric for change, to the point of the main opposition twisting his arm to join its side.
That only helped its opponents and caused even deeper partisan rifts. The liberal bloc — which lost to conservative Park Geun-hye — has been scorned ever since, despite pledging reform after its 2012 presidential election defeat, and again two years later upon its by-election slaughtering.
With the days ticking down until the parliamentary elections on April 13, the party's relationship with Ahn continues like a teenage love story. The left-wing opposition, now called the Minjoo Party, is urging the 54-year-old entrepreneur turned lawmaker to return to its side after he defected and created his own party. But this time, Ahn has put his foot down in a true insistence on alternative politics.
Whatever momentum Ahn carried when he stormed out of the Minjoo Party has been losing steam as the party's new leader, Kim Chong-in, has worked toward stabilization and voters have tired of the ego games. His staunch resistance has even cost Ahn his relationship with his party co-chairman, longtime liberal leader Kim Han-gil, who has dropped out of the race due to the continued fracture. Yet Ahn has pointed the blame at the Minjoo leader, claiming, "It was the Minjoo Party's Kim Chong-in who refused the idea of party-to-party solidarity."
Come April 13, the Minjoo Party is calculated to take 35 constituencies and Ahn's party 20, while President Park's ruling Saenuri Party could take 82. Saenuri victories in the remaining 110 up-for-grabs contests could push it ever closer to a 180-seat supermajority, well outstripping its 156 current seats.
Critics say that Ahn is a rebel without a cause, blowing his chance at being a viable political force by failing to deliver a clear message to the electorate. While blaming the two parties for today's political failures and proposing his own, he has lacked a good reason for a three-party system and failed to define his own party's stances.
"Fragmentation leads to defeat in a single-member district system, but the Korean constitutional system is 80-85 percent single-member district. They are cutting their own throat," said Robert Kelly, a political scientist at Korea's Pusan National University.
"Ahn has to be more than a Jesse Ventura or Arnold Schwarzenegger of South Korean politics. He can't just be a celebrity flash in the pan — he actually has to offer something substantive."
What the liberal bloc needs to win back voters, he said, is to depart from its Cold War concerns and stress the issues that today's South Koreans care about.