India in Talks With Sweden Over New Fighter Jet Upgrade
Hindustan Aeronautics Limited and Saab are holding talks over jointly upgrading the Tejas Light Combat Aircraft.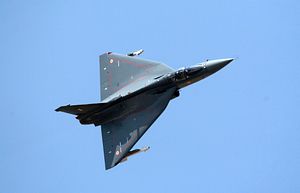 The Swedish aerospace and defense company Saab is considering a partnership with Indian state-run aircraft maker Hindustan Aeronautics Limited (HAL) to collaborate on the upgraded version of the indigenously-developed Tejas Light Combat Aircraft (LCA) dubbed Tejas Mark-IA, The Economic Times reports.
A high-level delegation from Saab is currently in India to discuss details of the potential partnership. "India needs about 300 aircraft of the LCA type. Saab's Gripen is a good fighter jet and hence exploratory talks are on to see if they can be a technical collaborator for the upgraded Tejas," sources within India's Defense Ministry said, according to Indian media reports.
Saab will most likely insist on a government-to-government deal should it decide to collaborate with HAL on upgrading the Tejas LCA. Indian defense officials have repeatedly spoken about a possible joint venture with a foreign fighter manufacturer to upgrade the Tejas LCA over the last year–in particular fitting the fighter jet with the more powerful General Electric F414-GE-IN56 engine. (The LCA Mark-I version is powered by a General Electric F404-GE-IN20 turbofan engine.) However, this plan appears to have been abandoned for the Tejas Mark-IA since it would have required a complete redesign of the aircraft.
The Tejas LCA is a supersonic, single-seat, single-engine multirole light fighter aircraft, which has been under development for the past three decades. It has been co-developed by the Aeronautical Development Agency in cooperation with HAL to replace the IAF's aging fleet of MiG-21 and MiG-23 aircraft.
However, "the Mark-I version of the Tejas fighter jet has been suffering from numerous technical problems including inadequate electronic warfare capabilities, a malfunctioning onboard radar system,  as well as reduced internal-fuel capacity among a host of other issues," as I wrote previously. The improved version of the fighter jet is supposed to fix the technical issues outlined above. As I reported in January 2016:
The Indian Air Force also abandoned plans to develop an upgraded Mark-II Tejas LCA and instead will field an improved Mark-I Tejas LCA — dubbed Tejas Mark-IA — in which the technical problems of the Mark-I version (…) will be addressed. 
Improvements include a new active electronically scanned array radar, an air-to-air refuelling capability, and an Unified Electronic Warfare Suite, as well as new long-range missiles, among 27 other modifications.
HAL is slated to hand over the fourth Tejas LCA to the IAF by the end of June for further testing with another two aircraft delivered by the end of 2016. The IAF plans to induct the first upgraded Tejas LCA by 2018.