Russia Will Ship S-300 Missile Systems to Iran Within Days
A Russian diplomat expects the first S-300 delivery to take place in the coming days.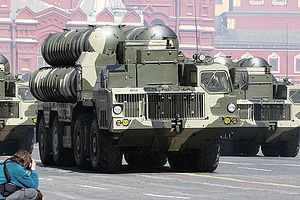 Russia will begin the shipment of the first batch of S-300 surface-to-air missile systems within days, according to a senior Russian diplomat quoted by Interfax. "I don't know if this will happen today, but they (S-300 missiles) will be loaded (for shipment to Iran)," said Zamir Kabulov, a department chief at the Russian Foreign Ministry, on April 5 in Moscow.
Kabulov's statement appears to contradict a March 2016 report by the Kuwait-based daily Al-Jarida that Russian President Vladimir Putin had temporally halted the S-300 sale after receiving intelligence briefings that Iran has supplied Hezbollah with advanced Russian missile systems, including SA-22 (Pantsir-S1) air defense systems and Yakhont supersonic anti-ship cruise missiles (See: "Has Putin Just Killed the Iran-Russia Air Defense Missile Deal?").
As I reported previously, in January 2015, Russian Defense Minister Sergei Shoigu and his Iranian counterpart, Defense Minister Hossein Dehghan, agreed to settle their differences and move forward with the sale of five S-300PMU-1/SA-20 Gargoyle SAM systems (40 launchers) for $800 million. The S-300PMU1 is a long range surface-to-air missile (SAM) system, "designed to engage aircraft, cruise missiles and theater ballistic missiles in intense clutter and jamming environment," according to deagel.com. 
If the news of the imminent shipment of the S-300 missile systems turns out to be genuine, it would finally lay to rest a contentious issue between Moscow and Tehran that began in June 2010, when Russia cancelled the delivery of the S-300s due to a United Nations Security Council resolution imposing sanctions — which included a ban on the sale of hi-tech weapons.
Russia had to stop all military-technical cooperation with Iran. This hit Iran particularly hard, since it had relied heavily on Russia in modernizing its military forces. Up until 2000, Iran was the fourth largest importer of Russian military hardware. One Russian analysis argued that Russia had lost a total of $13 billion in arms sales due to the UN sanctions. In 2010, after, Russia suspended the delivery of the S-300, Iran demanded $4 billion in compensation from the Russian state.
"Under the so-called Joint Comprehensive Plan of Action (JCOP), an international agreement on the nuclear program of Iran signed in July 2015, the UN arms embargo will be lifted 5 years after the JCOP adoption day. However, conventional weapons sales can be decided on a case-by-case basis meanwhile," I explained in February.
Russia has also offered to license-produce the third-generation T-90s main battle tank in Iran. Both countries are purportedly also close to signing a contract for the co-production of an undisclosed number of Sukhoi Su-30 multirole fighter aircraft in Iran. However, this week, a senior U.S. official said in a testimony in front of the U.S. Senate Foreign Relations Committee that the United States would block any such sale.
"We would block the approval of fighter aircraft," Thomas Shannon, the U.S. undersecretary of state for political affairs said, according to Reuters. "We've got a commitment … from the Russians in terms of working to prohibit the transfer of technologies to Iran's ballistic missile program," Shannon added.