Kazakh President's Grandson Shows Up in the Panama Papers
Perhaps the only surprise is that Nurali Aliyev was the lone Central Asian to be exposed.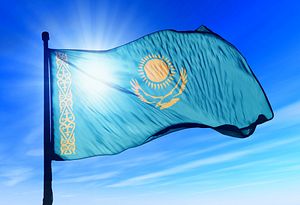 Over the weekend a massive trove of documents from the Panamanian law firm Mossack Fonseca was leaked after a year-long investigation. The International Consortium of Investigative Journalists, with Suddeutsche Zeitung (a German newspaper) and more than 100 other media partners, sifted through 11.5 million leaked confidential documents and brought to light the networks of offshore holdings, shelf and shell companies, which some of the world's most powerful and wealthy people use to obscure their financial dealings.
Nurali Aliyev, the grandson of Kazakh President Nursultan Nazarbayev, made an appearance in the files. Aliyev, 31, is the son of Dariga Nazarbayev and the late Rakhat Aliyev. The older Aliyev had a falling out with the Nazarbayevs in 2007 that eventually culminated in his apparent suicide in an Austrian jail last year. But Nurali has had a long series of important jobs, starting as president of a major sugar producer at the age of 19 and most recently a stint as deputy mayor of Astana.
The Organized Crime and Corruption Reporting Project (OCCRP), which has done amazing work on digging into corruption in eastern Europe and Central Asia, reported in depth on Aliyev's piece of the leak. According to the leaked documents–collectively being called the Panama Papers–Aliyev worked through a series of shell companies to purchase a yacht in 20008, named the Nomad. Although the price he paid is not known, OCCRP found an identical boat being sold used for $1.8 million. Check out the OCCRP report for the full saga but here's the kicker: the yacht was damaged en route to the United Arab Emirates and 2011 Aliyev sold it. Another interesting note is that one of the shells that makes an appearance is Greatex Trade and Invest Corp., which last came to light in connection to Aliyev and his father's links to shady London real estate deals.
Perhaps the only surprising thing about Aliyev showing up in the documents is that's he's the only Central Asian featured. But then again, Mossack Fonseca is only one of many companies that perform similar functions. And with the multiple corruption scandals tied to Central Asian states–see also: telecoms in Uzbekistan and Tajikistan's aluminum plant–there are more revelations to be made about who is benefiting from dirty dealings. For example, in early March the Norwegian government was trying to figure out who owned Talco Management Ltd (TML), a British Island-registered company which only exists to manage international trade for Tajikistan's largest aluminum plant. As of yet, the owners of TML are still unknown.
Another point of interest is that the ICIJ says this investigation has taken a year and on their website indicates that repeated requests for response were made to those named in the files (Aliyev apparently didn't have a response). Essentially, the corrupt officials (and world leaders) exposed have known these revelations were coming. According to OCCRP, Aliyev resigned from his deputy mayor post recently: "As of March 28, after OCCRP called, his profile disappeared from the city officials' section of the Astana office of the mayor's website."
Meanwhile, Aliyev's mother Dariga Nazarbayeva, who has been serving as a deputy prime minister, is reportedly not taking up a seat in the new parliament. It's unclear that her absence from the new parliament is linked to the Panama Papers revelations but it wouldn't be the first time Nazarbayeva stepped back from the spotlight due to the harsh glare reflected by members of her family. In 2007, she receded from public prominence as Rakhat Aliyev feuded with her father. After their divorce she laid low for a few years, only stepping back into the spotlight in 2014 when she joined parliament. In September 2015 she was appointed deputy prime minister.