Nazarbayev Resurfaces, Dismisses Talk of Elite Conflict in Kazakhstan
The statement from the First President came just after evidence of elite conflict began surfacing in earnest, with suggestions of a purge of Nazarbayev elites.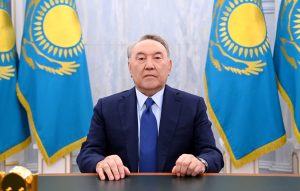 After two weeks with nary a peep, save a spokesman statement that he had not fled the country, Kazakhstan's First President Nursultan Nazarbayev surfaced with a video statement in which he dismissed any talk of elite conflict in Kazakhstan.
The statement comes just after evidence of elite conflict began surfacing in earnest with a number of resignations and firings, suggestions of a purge of Nazarbayev elites.
In his January 11 speech to parliament, Kazakh President Kassym-Jomart Tokayev obliquely criticized Nazarbayev, commenting that under his rule many rich people and businesses appeared in Kazakhstan and it was time that they contributed. In the same speech, he criticized a lucrative recycling company owned by Aliya Nazarbaeva, Nazarbayev's youngest daughter, suggesting that its function should be fulfilled by the state as in other countries.
On January 15, Aliya's husband, Dimash Dosanov, resigned as chairman of KazTransOil, Kazakhstan's national oil transporter. The same day, Kairat Sharipbayev, believed to be the husband of Dariga Nazarbayeva, Nazarbayev's oldest daughter, resigned as chairman of QazaqGaz, the national gas pipeline operator. Both resignations were announced by Samruk-Kazyna, the national wealth fund. Then on January 17, the husband of Nazarbayev's second daughter, Dinara, resigned as chairman of Atameken, a business lobby he'd headed for eight years. Also on January 17, days after the National Security Committee (KNB) said its first deputy, one of Nazarbayev's nephews, Samat Abish, was on vacation, Tokayev relieved him of his post.
Nazarbayev characterized his statement on January 18 as in response to media reports and direct appeals. Since protests kicked off in Kazakhstan on January 2, spreading across the country and igniting violently in Almaty on January 5, many have wondered where Nazarbayev was. Among the protest chants was an increasingly familiar call: "Shal, ket!" ("Old man, out!")
"I handed all presidential powers to Kassym-Jhomart Tokayev in 2019 and since then have been a pensioner," Nazarbayev explained. He said he was on a well-deserved break in Nur-Sultan.
Nazarbayev has been anything but a common pensioner since 2019. It was only in early December 2021 that Nazarbayev stepped down as head of the ruling Nur-Otan party; it was only on January 4 that Tokayev announced he would take over as head of the National Security Council — a position Nazarbayev still held onto under a 2018 law that granted him the right to hold the post for life. Since his 2019 resignation of the formal presidency, Nazarbayev has never been far from power. 
In his brief statement, Nazarbayev seemed to try and defend his legacy but ultimately comes off a tone-deaf: "Everyone knows that for 30 years I have been working tirelessly for the sake of our Motherland." He mentioned strengthened borders, progressive reforms, and the construction of an independent Kazakhstan having achieved "great results in social and economic development." 
Social and economic issues were at the core of the initial protests and a lack of progressive democratic reforms is why political competition in Kazakhstan takes place behind the scenes, except when it spills out into public as the violence in Almaty attests. Furthermore, Tokayev's summoning of the Collective Security Treaty Organization (CSTO) can be read as a ceding of some degree of sovereignty.
In his statement, Nazarbayev urged Kazakh citizens to support Tokayev.