The Bear Returns to the South Pacific: Russia Sends Arms to Fiji
Could Russian arms shipments to Fiji mark incipient great power competition in the region?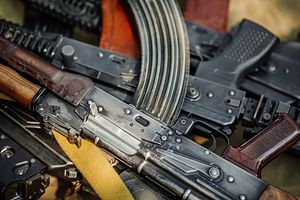 In January 2016, 20 containers of Russian arms arrived in Suva, the capital of Fiji. Speculations have abounded as to the ramifications of the weapons shipment. The weapons will likely be used to arm Fiji's peacekeepers. This makes sense—45 Fijian peacekeepers were captured by the al-Nusra Front in Syria in 2014, which prompted calls to upgrade the military's obsolete equipment. But why is Fiji receiving arms donations from faraway Russia, and why now?
Fiji underwent a military coup in 2006, which prompted heavy international backlash. Australia, the EU, and the United States slapped sanctions on the island nation, which was also suspended from the Pacific Islands Forum and the Commonwealth. In response the new government launched the "Look North" policy, which has sought to diversify Fiji's foreign partnerships. The Russian arms deal is evidence that this policy has continued despite Fiji's international reacceptance following elections in 2014. "Look North" has been wholeheartedly welcomed by Russia and China—both countries are currently expanding their influence in the South Pacific.
The South Pacific has historically been a microcosm of the balance of power in the larger Pacific region. In the past Britain, France, Germany, Japan, and the United States have all sought to control swathes of Oceanic territory for prestige and power projection. The Soviet Union used to compete with the U.S. for influence in the Pacific—it tried and failed to trade economic aid for port access in Tonga and Western Samoa—which was referred to by some commentators as "the soft underbelly of the West."
Russia is now attempting to reassert its status as a great power, and in the South Pacific it is succeeding in using checkbook diplomacy where the USSR failed. After Russia invaded Georgia and carved out Abkhazia and South Ossetia in 2008, it used aid to bribe Nauru, Vanuatu, and Tuvalu to recognize the breakaway states (this did not last: today only Nauru still recognizes them). These same states, along with Fiji and Tonga, failed to condemn the Russian annexation of Crimea in 2014; all other Pacific island nations did so.
Some have speculated that Russia may eventually seek forward basing rights in Fiji. Moscow denies this of course, but it cannot be ruled out as a possibility if Fiji deepens its "Look North" policy. There is a precedent for this: Russia used its massive arms sales to Vietnam to press for access to Cam Ranh Bay, which it then utilized to stage tanker aircraft to refuel Tu-95 strategic bombers conducting assertive reconnaissance operations near the U.S. naval base in Guam. Port access in Fiji would enhance the Russian Navy's ability to operate in the Pacific and collect signals intelligence (SIGINT) near American naval installations in the region. China may already be doing so using its fishing fleet—Chinese spy ships disguised as trawlers are thought to be operating out of Fiji. Pursuing port access would also make sense given Russia's pivot to Asia. Moscow recently announced plans to install advanced coastal missile systems and possibly a naval base in the Kuril Islands immediately to the north of Japan.
Fiji has also grown much closer to China in recent years. Beijing has provided a substantial amount of funding for the Melanesian Spearhead Group (MSG), Fiji's preferred regional intergovernmental organization. It continued giving aid when the island state was internationally isolated after its coup. Prime Minister Frank Bainimarama stated that "China was there in our time of need, when others in the region had turned their backs on us." While China still spends far less than Australia and New Zealand on aid in the South Pacific, its influence there is steadily growing.
Despite Western suspicions, Russia and China are unlikely to obtain substantial security benefits from their Oceanic presence in the foreseeable future. Its true significance is symbolic. U.S. dominance of this sparsely populated and strategically marginal region has historically been emblematic of its larger hegemonic role in the Asia-Pacific. Russia and China are quietly seeking influence in the South Pacific in order to weaken this symbol and consciously further the trend towards global multipolarity. These are still early days, but the tiny island states of Oceania merit close attention as a microcosm of the shifting regional balance of power.
Roman Madaus is a Master's student at the Strategic and Defence Studies Centre at Australian National University. He has previously written for the Australian Institute of International Affairs "Fresh Perspectives" blog.