What to Make of China in the South Pacific?
Long motivated by a recognition war with Taiwan, China's latest diplomacy in the region takes on a strategic tone.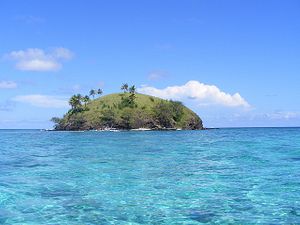 In democratic countries, public debate around foreign aid is usually a tug-of-war between those who would prefer the money spent at home and those who see a benign duty in assisting less fortunate countries. Of course, both these perspectives lack nuance in how foreign aid is actually distributed. Aid is usually given strategically, either with strings attached to how money can be spent, or given for diplomatic influence or favor. However, this doesn't preclude aid from also doing good.
In the South Pacific, the largest aid donors and countries that exert the most regional influence have traditionally been Australia and New Zealand, with Australia focusing more on Melanesia and New Zealand on Polynesia. However, recently there has been a noticeable increase in Chinese aid to many Pacific Island countries.
The issue is gaining some serious attention among regional analysts, leading Australia's premier foreign policy think tank, the Lowy Institute, to launch a project to map Chinese aid in the region. The project investigates the countries as well as the specific projects that are being developed through Chinese aid in the region. Currently there are 218 projects ranging across different sectors including agriculture, communications, education, energy, health, infrastructure, sanitation, and humanitarian assistance.
For decades the most intriguing aspect of Chinese aid in the Pacific region was the diplomatic rivalry between Mainland China and Taiwan. While most of the world has moved to recognizing the reality of the People's Republic of China (PRC) as the "official China," a significant number of Pacific Island countries maintain diplomatic relations with Taiwan, or the Republic of China (ROC) as it refers to itself. This recognition usually comes in exchange for significant aid packages from Taiwan.
Due to their limited natural resources, a handful of countries — Kiribati, Marshall Islands, Nauru, Palau, Solomon Islands, and Tuvalu — have attempted to play the PRC and the ROC off against each other in the hope of creating a bidding war for diplomatic recognition.
While previously China's aid presence within the South Pacific was motivated by a desire to squash Taiwan's diplomatic relations in the region, there seems to be a recent shift toward a more strategic motive. As China develops its blue-water navy capabilities it will require greater access to more ports in the Pacific. Building stronger relationships with Pacific Island nations is paramount for China to be able to project power throughout the Pacific Ocean, and will lay the groundwork for future hegemony should the United States retreat in a measurable way from the region (although this is unlikely in the foreseeable future).
This is clearly a long term project, but one that China seems very serious about. In late-2014, President Xi Jinping became the first Chinese president to visit Fiji. An official state visit to a Pacific Island country demonstrated China's interest in the region. It was also significant signal of solidarity after Australia and New Zealand had isolated Fiji regionally following the country's 2006 coup. The continued frosty relationship between Suva and the two regional heavyweights led to Fiji's prime minister, Frank Bainimarama, indicating to the United Nations General Assembly that he was reevaluating Fiji's relationships.
While Australia remains the largest aid donor in the Pacific, its foreign aid budget has been rapidly declining as a proportion of Gross National Product (GNP). A continued decline could see its influence wane, especially if the south Pacific becomes a greater strategic battleground. Earlier this week The Diplomat reported that India is also showing a strong diplomatic interest in the region.
Australia and New Zealand do, however, maintain closer cultural ties with the region, particularly through sport, and it is these ties, alongside strong civil society links and the large Pacific Islander diasporas that live in both these countries, that are able to provide more lasting relationships and sympathies. Aid money can be influential, especially with governments of the day who may have axes to grind, but it lacks these deeper emotional ties.
Yet China's increased aid budget and its more pronounced strategic evaluations are an inevitable manifestation of the country's rising power. There is an obvious geopolitical shift underway, and this is something regional actors such as Australia must acknowledge and work within. China has yet to make any dramatic moves that could upset the regional balance. Beijing's interests and presence may have increased, but destabilizing the current regional norms is not in their current interest.
At present the Indian Ocean and South China Sea are considered far more valuable shipping lanes for maintaining China's energy security. The South Pacific is yet to offer China comparable gains.