US Defense Secretary on THAAD in South Korea: 'It's Going to Happen'
Speaking before a trip to Asia on Friday, U.S. Defense Secretary Ashton Carter remarked that THAAD would come to South Korea.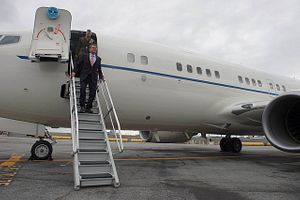 U.S. Defense Secretary Ash Carter, speaking on Friday before a trip to Asia, indicated that the United States will soon deploy the Terminal High Altitude Area Defense (THAAD) system in South Korea. "It's going to happen," Carter said, adding that "it's a necessary thing." Following North Korea's fourth nuclear test in January and a satellite launch in February, the United States and South Korea officially began talks on THAAD implementation. A joint U.S.-South Korea working group met to discuss THAAD in March.
"It's part of protecting our own forces on the Korean Peninsula and protecting South Korea," Carter added, describing the reasons the United States was interested in deploying the missile defense system on the Korean peninsula. Addressing Chinese trepidation about THAAD, Carter exclaimed that the deployment of THAAD "has nothing to do with the Chinese." Shortly before Carter delivered his remarks, the Wall Street Journal reported that he would be postponing his trip to China.
China has expressed strong reservations about the deployment of THAAD on the Korean peninsula. Though China has not specified why precisely it opposes the deployment of the platform beyond hinting that it perceives THAAD as a risk to regional stability, it is likely in part due to the sophisticated X-Band active electronically scanned array (AESA) radar system that guides the surface-to-air interceptor missiles. U.S. AN/TPY-2 radar systems would accompany any THAAD battery in South Korea and would improve Washington's early warning capabilities for any Chinese ballistic missile launches, potentially weakening China's nuclear second strike capability.
On Friday, Carter added that he "wish[ed] the Chinese would work with" the United States and "work bilaterally with North Korea more effectively … at heading off their missile challenge in the first place." The United States and China managed to collaborate in early 2016 to help realize United Nations Security Council Resolution 2270, which puts in place the harshest UN Security Council sanctions against any country in decades over Pyongyang's latest nuclear tests. Though China and North Korea have traditionally had a close diplomatic relationship, with Beijing acting as the isolated state's sole benefactor and ally, relations have cooled substantially in recent years.
Meanwhile, China's relationship with South Korea has soured over THAAD as well. Last year, the two countries exchanged sharp words over the potential deployment of the system, with South Korea warning China to not try and influence its security policy. In response, China's foreign ministry, without mentioning Seoul by name, said its position was that "countries must neither pursue their own security interests at the expense of other's nor undermine regional peace and stability."
Despite their difficulties over THAAD, China and South Korea maintain close relations. Carter remarked that the United States was "quite encouraged" to see the bilateral relationship between Beijing and Seoul remain strong. "So actually we think that's a good thing and part of this network of security that we encourage—China, South Korea, and us all together," Carter said.