US Wants Gulnara to Give Back $550 Million in Corruption Proceeds
"Government Official A" named in massive corruption case is no longer anonymous.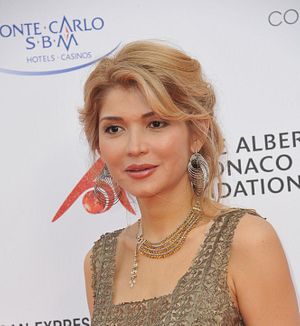 Years after Gulnara Karimova, the daughter of Uzbekistan President Islam Karimov, saw discussions of her presidential aspirations evaporate in a maelstrom of corruption accusations and house arrest, it appears the erstwhile pop star still hasn't found her floor. Not only has Karimova lost her political clout, her social standing, and even her PR team, but she may soon be set to take her biggest hit to date.
According to Bloomberg, the U.S. Justice Department issued a formal letter late last week detailing how its demands on reclaiming more than $550 million, stashed in Swiss bank accounts and linked to a telecom bribery scandal stretching from Norway to Uzbekistan, had been ignored. As a prior Justice Department release noted, this $550 million constituted "bribe payments" made. Now, per the report, the Justice Department wants Karimova and her associates to "be held responsible for the payment."
But where prior filings had cited an obscure "Government Official A" as the primary benefactor of the scandal, the new request names Karimova outright, confirming the suspicions of those following the case. As RFE/RL added, the letter filed via the department's Asset Forfeiture and Money Laundering Section also names Gayane Avakyan, Karimova's associate, and Rustam Madumarov, "who has been identified as [Karimova's] boyfriend."
The letter comes on the heels of a February settlement in which Amsterdam-based VimpelCom Ltd. agreed to a $795 million settlement with officials from both the United States and the Netherlands. The figure marks the second-highest figure ever obtained under the auspices of the United States' Foreign Corrupt Practices Act.
The details of the bribery scandal, the price tag of which runs into the billions, have pulled back the veil on Russian and Scandinavian companies greasing official palms to gain access to the Uzbekistani telecom market. Prior investigations linked over $1 billion – and potentially far more – to Karimova directly, with assorted telecoms pledging hundreds of millions of dollars each to the former diplomat. As the investigation has unspooled, however, some foreign telecoms have begun removing themselves from Central Asia outright; Norway's TeliaSonera, for instance, announced late last year it will be pulling up its stakes from the entire Eurasian region.
Likewise, the bribery scandal fits within the pattern revealed via, among other investigations, the recent Panama Papers leak. While Uzbekistan's officials escaped any information pertaining to offshore accounts in the Panamanian scandal, the Justice Department's investigation – and the slow close around the Karimov family, including the recent investigations linking Karimov's other daughter to shell corporations – illustrates just how extensive, and massive, the corruption surrounding Central Asia's first families remains.