What Do the Panama Papers Reveal About China?
Plus, the Great Firewall under fire, OBOR, and China picking up Russia's slack in Kyrgyzstan. Friday China links.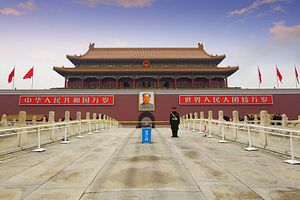 Your weekly round-up of China links:
When reports on the Panama Papers – 11.5 million leaked documents regarding offshore companies listed by Panamanian law firm Mossack Fonseca – first went live, early news hinted the trove would contain interesting revelations about China's elite. In fact, greater China (including Hong Kong) was the largest market for Mossack Fonseca, representing nearly 30 percent of its active clients. Most notably among the early reveals, the brother-in-law of China's top leader, Xi Jinping, was found to have listed offshore assets via Mossack Fonseca.
Xi's family is just the tip of the iceberg, however. Writing for the International Consortium of Investigative Journalists, which coordinated reporting on the Panama Papers, Alexa Olesen takes a closer look at what the leaked documents reveal about China's elite. In addition to information about offshore assets linked to eight current and former members of China's Politburo Standing Committee, the documents also contain details on the offshore holdings of Gu Kailai, the wife of Bo Xilai. Gu's murder of a British businessman over fear of having her offshore assets revealed sparked a soap-opera-esque drama that ended with her and her husband in prison. Olesen has the details on who owned what, and when, as revealed in the leaked documents.
"Not all offshore dealings are illegal, but incorporations in the BVI [British Virgin Islands] and elsewhere can be used to obscure financial relationships between political elites and wealthy patrons, to hide assets, evade tax, and enable anonymous stock purchases," Olesen notes. "[…]These are but a few of the techniques greasing the wheels of modern Chinese capitalism with communist characteristics."
It's no surprise that Chinese authorities have strictly controlled reporting on the Panama Papers. China Digital Times reports on censorship instructions ordering all websites to "please self-inspect and delete all content related to the 'Panama Papers' leak, including news reporting, microblogs, WeChat, forums, community pages, bulletin boards, cloud storage, comments and other interactive media."
Speaking of China's online controls – for the first time, U.S. trade officials have listed China's "Great Firewall" as a trade barrier, the New York Times reports. Foreign social media platforms Facebook and Twitter are both blocked in China; foreign businesses can see their websites blocked as well. In a recent report, the Office of the U.S. Trade Representative concluded that these restrictions "posed a significant burden to foreign suppliers," a hint that Washington now sees the "Great Firewall" as not only a human rights concern, but an economic issue as well.
In other news, a Chinese company seems poised to step into the breach left by Russia failing to make any progress on hydropower projects in Kyrgyzstan. Anne Lelik of Eurasianet reports that China's State Power Investment Corporation is moving to invest in four new hydropower stations that would generate 4.6 billion kilowatt hours each year. At this point, China investing in energy infrastructure in a country along the "Belt and Road" should come as no surprise, but the failed Russian endeavors lends some interesting color to this particular story.
Meanwhile, if you want more details on the Belt and Road, don't miss Christopher Johnson's "practical assessment," which was released earlier this week. Johnson looks at the motives behind the Belt and Road, its progress and outlook, and how the U.S. should respond – all in less than 40 pages.
Wrapping up this week's links: a fascinating piece by Jenna Cook on her quest to find her Chinese birth parents. Cook describes the fraught emotions involved on both sides as she searches for and meets with no less than 50 families, "each of which had left a baby on one single street in Wuhan in March 1992."